Wonder what Mariah Carey thinks of the reports that Nicki Minaj will be joining her on the "American Idol" judges' panel next season? Look no further than her twitter account.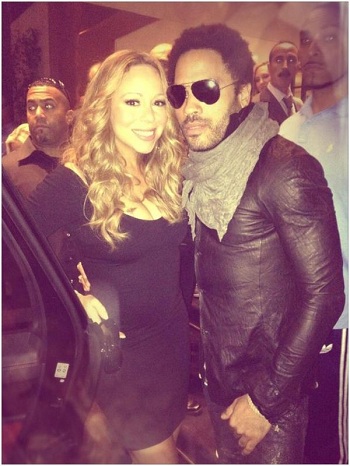 As headlines suggested that Minaj's "Idol" recruitment was a done deal, Carey — who signed on as a judge for the singing competition in July — offered her own candidate for the spot: Lenny Kravitz.
Also read: Mariah Carey Gets What Jennifer Lopez Wanted: $17M for "Idol"
Carey took to Twitter Monday to post a picture of herself and "Let Love Rule" singer Kravitz with the plea, "@AmericanIdol What's going on? need the info!! What about this combo? : ) if we could ever get him to do it!"
Kravitz co-starred with Carey in 2009's "Precious."
Carey joined the series following the departure of judges Jennifer Lopez and Steven Tyler. As TheWrap reported previously, Carey will rake in $17 million to judge the show — the same amount that Lopez was seeking before parting ways with the show. The $17 million payday will make Carey the highest-paid judge on a singing competition, an insider told TheWrap.
Also read: Nick Jonas Wants to Be "American Idol" Judge
So far, Fox, which airs "Idol," has remained mum on the reports of Minaj joining "Idol," and it remains to be seen if Lenny Kravitz is gonna go Carey's way — a spokeswoman for Kravitz has not yet responded to TheWrap's request for comment.
Earlier this month, Nick Jonas of the Jonas Brothers confirmed reports that he's in the running for a spot on "Idol"'s judges' panel.
"The rumors are true," Jonas said via Twitter. "I am being considered to be a judge on 'American Idol,' and it would be a dream come true if it happens."