Jiminy Glick is coming to "How I Met Your Mother." In a manner of speaking.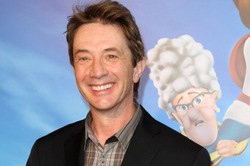 Vulture reports that former "Saturday Night Live" funny man Martin Short has landed a recurring role on the CBS comedy, replacing Dave Foley in the role of Marshall Eriksen's new boss.
Also read: CBS Re-Ups "How I Met Your Mother" for Two More Seasons
The former "Kids in the Hall"/"NewsRadio" actor made his debut as Eriksen's potential new employer at an environmental law firm during the show's finale this season. However, Foley will be unable to fulfill his obligations to the show, now that CBS has picked up his pilot "How to Be a Gentleman," which will co-star "Entourage" star Kevin Dillon.
Short also has a recurring role in the new season of "Weeds," as an eccentric attorney in an arc that will last "at least three episodes," according to Showtime. The actor also had a regular role on "Damages" last year, playing attorney Leonard Winstone.
Representatives for Short and CBS did not immediately respond to TheWrap's requests for comment.