Michelle Obama is teaming up with Nickelodeon once again.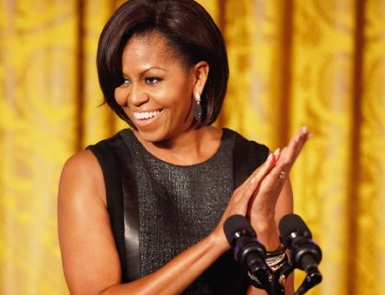 First Lady Obama, who made a cameo on the network's "iCarly" in January to promote her Joining Forces initiative, will appear at Nickelodeon's Kids' Choice Awards on Saturday.
Also read: Michelle Obama Joins Twitter (ish)
Obama will present country singer Taylor Swift with the Big Help Award, which Swift is receiving for her various philanthropic efforts, including her work with flood and tornado survivors. The First Lady received the award in 2010 in recognition of her Let's Move! campaign, which promotes healthier lifestyles for children.
Also read: Taylor Swift Invites Cancer Patient to ACM Awards
"Taylor's dedication to helping others has encouraged her fan base to do the same, and this is the very core of what The Big Help is, inspiring others through action," the Nickelodeon Group's Marva Smalls said of Swift.
Also read: "Hunger Games" Album Review: NPR-ish Teen Angst From Taylor Swift, Maroon 5, Arcade Fire
The award is an offshoot of Nickelodeon's The Big Help campaign, which "is a pro-social initiative that empowers kids to take positive actions on issues that are important to them," according to the network. Previous winners of the award include Justin Timberlake and Leonardo DiCaprio.
This year's Kids' Choice Awards will be telecast live on Nickelodeon on Saturday, March 31 at 8 p.m. ET (a tape delay will run on the West Coast). The ceremony, which Will Smith is hosting, will take place at the Galen Center at the University of Southern California.