Barack Obama can breathe a sigh of relief; he won't have to compete with the likes of Rihanna and Lil Wayne for the attention of the nation's youth on Thursday. (Well, not anymore than usual, anyway.)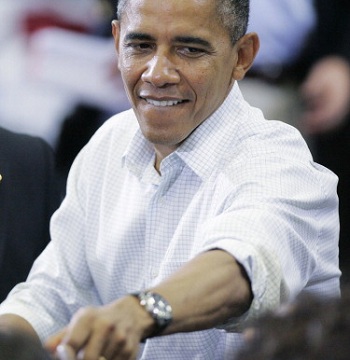 MTV has shifted its air time for the Video Music Awards and will air the ceremony an hour earlier than usual so as not to compete with Obama's acceptance speech for the Democratic Party's presidential nomination.
Also read: Harold & Kumar Go to the DNC (Video)
"We are airing the show on Thursday, September 6th from 8 – 10 p.m., as opposed to our traditional 9 – 11 p.m. timeslot to avoid conflict with the Democratic National Convention proceedings that evening," an MTV spokesman told TheWrap in a statement.
Obama will likely give his acceptance speech at 10 p.m. or sometime thereafter on Thursday, the final night of the Democratic National Convention in Charlotte, NC.
Singer Rihanna will open this year's VMAs this year, performing her single "Cockiness (Love It) featuring A$AP Rocky." The performers' slate also includes Lil Wayne, Nicki Minaj, Frank Ocean, Taylor Swift, Pink, Green Day and others.
No word on whether any of the performers plan to do any Eastwooding by singing to an empty chair.