Scott Pelley isn't one to ease into a new job.
The new host of "CBS Evening News" takes over the anchor chair Monday in the midst of a simmering fight with a beloved American icon, thanks to his "60 Minutes" report that suggested doping by Lance Armstrong.
Reporting the story two weeks before he took over as anchor was daring timing for Pelley, especially since the past anchor with whom he shares the most similarities, Dan Rather, stepped down as anchor after an investigation of President George W. Bush overreached.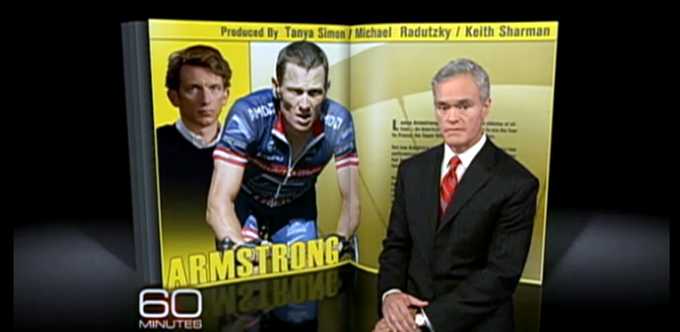 The outcry over that report, which used fabricated documents to challenge Bush's military record, led to Rather's replacement by Bob Schieffer. He was replaced by Katie Couric, who now passes on the job to Pelley.
Also read: '60 Minutes' to Lance Armstrong: No Apology for 'Truthful' Doping Story
Both Pelley and Rather are white, Texas-born news veterans with reputations as reporter's reporters, eager to take on sacred cows — including those from their own home state.
But Rather's role in the Bush investigation hurt his once-impeccable reputation, while Pelley's reporting in the Armstrong case has for the moment only helped his. CBS News is standing by the story, which CBS News chairman Jeff Fager calls "truthful, accurate, and fair."
Fager has rejected a call from Armstrong's legal team for an on-air apology.
Armstrong's lawyers, meanwhile, tell TheWrap they may sue over the "60 Minutes" report.
"It certainly raises significant questions about the quality of his reporting, there's no question about that," said Mark Fabiani, one of Armstrong's attorneys. Of CBS' vigorous defense of the story, he added: "They're forced to do it because he's a prominent anchor."
Read also: Rather's $70 Million Suit Against CBS Thrown Out
In a letter to CBS News this week, Armstrong's San Francisco-based legal team called Pelley's story, "either extraordinarily shoddy, to the point of being reckless and unprofessional, or a vicious hit-and-run job."
But Pelley isn't known for either kind of reporting. Since he joined "60 Minutes" in 2004, half of all the major awards won by the broadcast have been for stories he reported. (A CBS News representative said Pelley was preparing for his first "Evening News" broadcast and unavailable for an interview.)
With the Armstrong story, the revered cyclist's lawyers contend, Pelley has gone too far.
The seven-time winner of the prestigious Tour de France bike race has been under a cloud of suspicion over blood doping for years.
Hamilton said in the May 22 report that Armstrong tested positive for the banned substance EPO during the 2001 Tour de Suisse.
Armstrong's attorneys vehemently deny an allegation raised in the "60 Minutes" report by a former teammate of Armstrong's, Tyler Hamilton, who has twice tested positive for performance- enhancing substances.
So far Armstrong's attorneys haven't found a non-smoking gun to prove his innocence: Only their client, and precious few others, know precisely what did or didn't happen, and you can't prove a negative.
During the report, Pelley said a letter from a U.S. government investigator to the lab that tested Armstrong said that the cyclist's urine sample was "suspicious" and "consistent with EPO use."
Pelley futher reported that Armstrong and his team manager met with the lab director, and later made two donations totaling $125,000 to the organization that polices doping.
"We alerted '60 Minutes' producers in advance of the show that virtually every single one of these allegations was false," Armstrong's attorneys said in their letter to Fager. "We provided evidence to prove it, and we warned CBS that the defamatory message that it sought to convey was an outrage. '60 Minutes' went ahead with the broadcast anyway."
The attorneys argue that Armstrong did not test positive and that there was no meeting to cover it up. They call the suggestion that he bribed the organization with the $125,000 contributions "the baseless icing on the defamatory cake."
They also note that Martial Saugy, the Swiss lab director, told The Washington Post after the report aired that he had no knowledge of Armstrong testing positive or of any cover-up.
Armstrong has always denied doping, and denied allegations by former teammate Floyd Landis that he and Armstrong received banned blood transfusions to improve their performance.
The segment has held up to far more scrutiny than the Bush investigation, which began to collapse overnight in a way high-profile news stories almost never do.
With Rather's story, bloggers quickly realized that the font used in key documents didn't exist in the year they supposedly originated. Rather later sued CBS, saying he was pushed from the anchor chair and eventually out the door — and that both moves hurt his reputation. His $70 million lawsuit was dismissed.
The long list of stories Pelley and his team have covered include a series on The Great Recession, an investigation of American e-waste, as well as segments relating to Sept. 11, the White House, and the wars in Afghanistan and Iraq.
In 63 years of the "Evening News," Pelley is one of only seven people to fill the anchor chair full time. The others, in order, are Douglas Edwards, Walter Cronkite and Rather, who was joined for two years by Connie Chung, Schieffer, and Couric.
All of them have earned their credibilty the same way Pelley will, whatever the outcome of the Armstrong case: One broadcast — and one story — at a time.