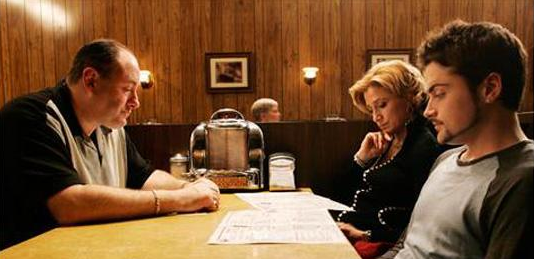 The New Jersey restaurant where Tony Soprano may have eaten his last onion ring placed a "Reserved" sign Wednesday at the booth where James Gandolfini shot the famous scene.
After Gandolfini's sudden death at 51, Holstein's ice cream parlour remembered Gandolfini and the rest of his TV family's visit to the Bloomfield, N.J. business.
"During his down time, he'd be outside smoking a big cigar, talking to people. He seemed like real regular guy," proprieter Chris Carley told the New York Post. He said Gandolfini was "really, really nice to the staff, giving autographs and taking pictures . . . One night, at 1 a.m., he brought in a whole bunch of sushi at his own cost. Just a really nice guy."
Many visitors Wednesday came to remember Gandolfini and see the booth, not for the ice cream, said Carley's daughter, Sara.
The show ended with Tony looking up to see someone — hopefully his daughter, Meadow — coming through the door. The scene cut to black on the words "don't stop" from Journey's "Don't Stop Believin.''"
Speculation ran rampant about what it meant for Tony — had the man in the Member's Only jacket come out of the men's room shooting? Or was it just another night of Tony trying to remember the good things, not knowing when it might end?