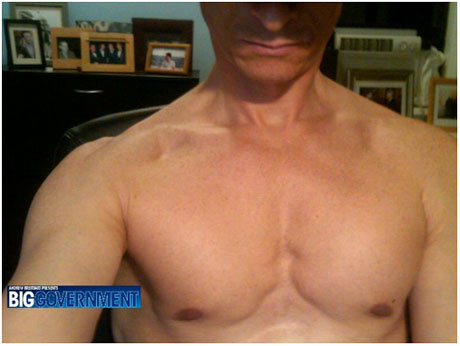 Rep. Anthony Weiner addressed reporters Monday at the Sheraton Hotel in midtown Manhattan to admit exchanging lewd messages with multiple women he'd met online.
The press conference was aired live on CNN and other television news outlets.
Additionally, CBS News set up a live stream of the event. Click here to watch.
Also read: Weinergate: 3 Things Rep. Weiner Should Never Say Again
A week after Weiner tweeted a photo of his crotch, which the congressman had initially claimed was the work of hackers, he was finally came clean about that scandal in the wake of the release of a fresh photo (above) published Monday by BigGovernment.com that shows him shirtless.
Read also: Rep. Weiner: 'Terrible Mistakes' With 6 Women Online
BigGovernment's Andrew Breitbart wrote that it was sent in by a young woman who claims to have received it from a Yahoo! email address that she claims was an alias for Weiner.
Also, RadarOnline.com reports that another woman has come forward with allegations that Weiner exchanged some 200 racy Facebook messages with her.
Also read: Andrew Breitbart Takes Over Purported Rep. Weiner News Conference
The outlet published excerpts of their exchange, in which the married Weiner refers to his "ridiculous bulge."
Adding a strange twist to the hastily assembled press conference, Breitbart hijacked the conference before Weiner showed up to answer questions about why he published the photos in the first place.