An overgrown bit in the "Saturday Night Live" mold of skits blown up to feature length, Larry David's "Clear History" doesn't fully deliver on its comedic premise. It starts off promisingly enough, but never takes flight.
Still, the HBO movie, which debuts Saturday night, is worth checking out for a number of reasons. Here are five of them: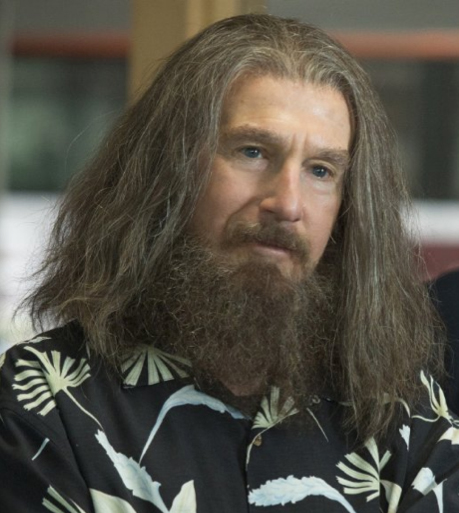 1. Larry David's distinctive style.
The "Curb Your Enthusiasm" star sports an outlandish wig and beard as car marketing wiz Nathan Flomm at the start of "Clear History," and it doesn't take long for him to start sputtering with rage, "Curb"-style, at electric car boss Jon Hamm over a petty point. As familiar as the dynamic is, "Curb" fans will likely enjoy it.
Simply seeing a photo of David as Nathan isn't enough to get the full comedic flavor of the curmudgeonly actor as his own worst enemy.
"You look like the guy who kidnapped Elizabeth Smart," co-star Danny McBride says to Nathan, at that point going by the name of Rolly DaVore and working as a caregiver in Martha's Vineyard.
Humiliated by the fact he walked away from big bucks by giving up his stock in the company, he has kept that identity secret. Then his worlds collide, setting in motion more comic subterfuge.
See video: Larry David Looks 'Like the Guy Who Kidnapped Elizabeth Smart' in 'Clear History' Trailer
2. Jon Hamm as a chino-wearing electric car visionary.
The actor known for stylish grooming in "Mad Men" wears chinos with a BlackBerry strapped to his belt as the humorless owner of a start-up electric car company. After he's made a mint on his car, he turns up in Martha's Vineyard to unwittingly torment his old executive, who has since lost much of his hair.
Also read: Jeff Garlin Thinks There's a 'Decent Chance' for More 'Curb Your Enthusiasm'
3. Michael Keaton as a Hamburglar-like local. Once a go-to comedic actor, Keaton hasn't been nearly as busy in recent years, and he's virtually unrecognizable as knit-cap wearing Joe Stumpo, a quirky crony of Rolly's that helps him try to exact revenge on his billionaire former boss. In a tele-movie filled with fine comedic actors – McBride, JB Smoove, Amy Ryan and a padded out Eva Mendes — Keaton (right) stands out.
Also read: Larry David Explains Why Liev Schreiber Isn't Credited in His Movie
4. Beautiful coastal scenery.
Partially set in Martha's Vineyard, the movie was actually filmed nearby on Boston's north shore. The setting is gorgeous; who could blame David, who co-wrote the movie and has a house on the island, for choosing it?
5. David's dyspeptic worldview.
Without divulging too much of the plot, suffice it to say that there is no fairytale ending in "Clear History."
Watch video of the premiere below