"Hot" ladies Valerie Bertinelli, Jane Leeves, Betty White and Wendie Malick were the big draw at their panel at the Paley Center for Media's Paleyfest 2011 on Tuesday. In addition to "Hot in Cleveland," the stars and creative talent driving this season's big shows are taking the stage and treating fans and the community to an inside look.
The rest of the lineup includes a hot-ticket "American Idol" night with the producers, judges, and the "Top 12" on Monday, as well as nights with "Glee" and "Community" before wrapping up next Thursday.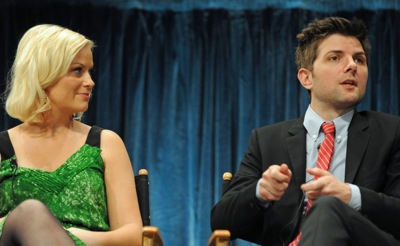 Amy Poehler and Adam Scott (at right) accepted Paleyfest's honors for current NBC staple "Parks & Recreation" on Wednesday night. Aziz Ansari, Nick Offerman, and Chris Pratt also took the stage at the Saban Theatre. Former NBC cult comedy "Freaks & Geeks" got its own Judd Apatow-helmed reunion night.
On Thursday, Lionsgate premiered Matthew McConaughey's "back in the courtroom" film "The Lincoln Lawyer" with an Arclight screening. Co-stars Ryan Phillippe, Josh Lucas, and Lionsgate brass Michael Berns and Joe Drake (COO) stayed put for an on-site after party.
While William H. Macy promoted his participation at the "Lincoln" premiere, his "Shameless" daughter Emmy Rossum (left) kept the lights on for his just-renewed Showtime series.
Rossum channeled her inner Gwyneth Paltrow at the JW Marriott Chicago Grand Opening on Monday night. Rossum belted out "Think of Me" from "The Phantom of the Opera" alongside other upscale entertainment – Chicago's Joffrey Ballet and Symphony Orchesta. (The upscale hotel's local outpost at L.A. Live is always a hotspot pre-and-post award shows.)
Emmy and her "little brother" co-star Ethan Cutkosky were back their adopted city ahead of production on the second season of the Chicago-based series. Chicago native Vince Vaughn's mom Shea is the fitness guru at the new hotel.