Is Showtime's new historical drama "The Borgias" popular? Was Pope Alexander VI a corrupt, scheming lecher?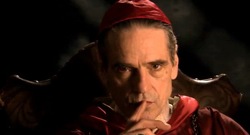 Showtime announced on Monday that it has renewed "The Borgias," which stars Jeremy Irons as the treacherous Rodrigo Borgia (aka Pope Alexander VI).
According to Showtime, 10 new episodes will go into production this summer, for airing in 2012.
As with the first season, Neil Jordan will serve as creator, executive producer and writer, as well as director for the first two episodes of the season. "Band of Brothers" director David Leland will also write a number of episodes and direct two.
The series, which premiered on April 3, came out of the gate as a hit for the cable outlet, yielding the best series premiere ratings for a Showtime drama in seven years.