Charlie Sheen might be spending more time in court than he had anticipated soon.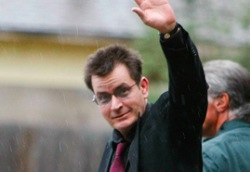 The recently axed "Two and a Half Men" star, who's currently suing his former bosses, Chuck Lorre and Warmer Bros. TV for $100 million, is himself facing a $20 million lawsuit, according to court documents obtained by TheWrap.
Television producer Ed Meyer filed his lawsuit in Los Angeles County Superior Court on Tuesday, claiming that Sheen conspired to ruin a reality TV deal between himself and Sheen's estranged uncle, Joe Estevez.
Meyer alleges that he was working with Estevez on a project about the Sheen clan, but Charlie engaged in a harassment campaign until the deal was scuttled.
Meyer further claims Sheen's father, Martin Sheen, and mother Janet as co-conspirators, though they are not listed as co-defendants in the suit.
According to Meyer's suit, "Starting on January 4, 2010, defendant Carlos Irwin Estevez, along with co-conspirators Martin Sheen and Janet Sheen, all non-parties to the reality show deal, did internationally and tortuously: threaten, interfere with and restrain, and also conspire to: threaten, interfere with and restrain the plaintiff's reality television project starring their relative Joe Estevez, titled: 'About The Sheens' aka 'Being Sheen' aka 'Sheen Reality,' thus destroying the contractual relationships and damaging the plaintiff Ed Meyer."
Meyer is representing himself in the suit.