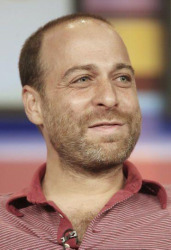 Comedy Central is adding to its collection of fake news shows.
The cable network greenlit a 10-episode series starring comedian Jon Benjamin as a reporter who roams the roads in a news truck for man-on-the-street segments and undercover investigations.
Benjamin currently stars in the animated FX series "Archer."
"Jon Benjamin Has a Van" will be executive produced by Benjamin, Andrew Steele and Funny or Die, the comedy web site and production venture started by Will Ferrell and Adam McKay.
Comedy Central's decision to pick up the show was announced by head of original programming and production Kent Alterman.
Benjamin is a veteran of several TV comedy projects including "Important Things With Demetri Martin," "Human Giant" and "Family Guy." Production on "Jon Benjamin Has a Van" will begin in the fall and the show is scheduled to premiere in summer 2011.
The show does not yet have a premiere date or timeslot.