"Community" stars Chevy Chase and Joel McHale buried the hatchet — and not in each others' backs — on their recent public feud when the two appeared together as presenters at Comedy Central's second annual Comedy Awards on Saturday.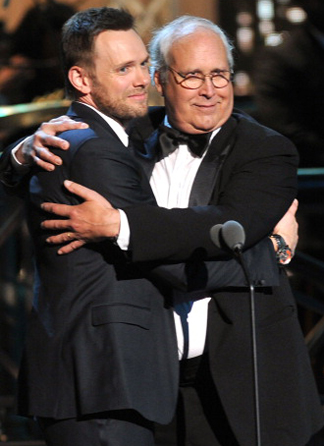 Taped at the Hammerstein Ballroom in New York City to air on the network on May 6, the Comedy Awards featured a who's who of the comedy world, with Robin Williams receiving the Stand-Up Icon Award and Don Rickles receiving the Johnny Carson Award.
Tina Fey, Chris Rock, Louis C.K., Will Arnett, Amy Poehler, Jon Stewart, Ed Helms, Adam Scott, Tracy Morgan, Chris Parnell, Ty Burrell, Robert De Niro, Jim Carrey and Kristen Wiig also attended the awards show.
Also read: Chevy Chase's 'Community' Rant: 'It's Just a [Bleep]ing Mediocre Sitcom!'
Chase and McHale were among the presenters for the Comedy Awards' competitive categories. The two hugged and kissed and made reference to the public war of words that unfolded among "Community" creator Dan Harmon, Chase and McHale after Harmon played in public a voicemail message Chase had left him, ranting about the show, Harmon and Chase's co-stars.
"What an absolute joy it is to work alongside a comic legend, and I know all those pratfalls are because of an inoperable tumor," McHale joked during the duo's onstage patter, the New York Post reports. Chase quipped that McHale is "a brilliant actor, who has a horrible eating disorder."
The complete list of the winners from Comedy Central's Comedy Awards show:
Stand-Up Icon Award
Robin Williams
Johnny Carson Award
Don Rickles
Comedy Film
"Bridesmaids"
Animated Comedy Film
"Rango"
Performance by an Actor — Film
Jean Dujardin, "The Artist"
Performance by an Actress — Film
Melissa McCarthy, "Bridesmaids"
Comedy Director — Film
Paul Feig, "Bridesmaids"
Comedy Screenplay
"Bridesmaids"
Comedy Series
"Parks and Recreation"
Sketch/Alternative Comedy Series
"Louie"
Animated Comedy Series
"Archer"
Performance by an Actor — TV
Ty Burrell, "Modern Family"
Performance by an Actress — TV
Amy Poehler, "Parks and Recreation"
Late Night Comedy Series
"The Daily Show With Jon Stewart"
Comedy Writing — TV
"30 Rock"
Comedy Directing — TV
"Louie"
Stand-Up Tour
Louis C.K.
Comedy Special of the Year
"Louis C.K.: Live at the Beacon Theater"
Club Comic
Hannibal Buress
Breakout Performer of the Year
Donald Glover