John Slattery's Emmy odds have never been better.
The "Mad Men" star is almost certain to be nominated for a fourth straight year in the best drama supporting actor category, following a wrenching season for his character, Roger Sterling. Roger's impulsive marriage to a secretary, Jane, seems in danger, and his career suffered when he lost his firm's biggest client.
Meanwhile, some of Slattery's main competitors in the category are gone: The end of "Lost" takes Terry O'Quinn and Michael Emerson out of the running, and "Breaking Bad" was off the air during the eligibility period, sidelining last year's winner, Aaron Paul.
Also read: Matthew Weiner: "Mad Men" Deal Protects Show Through Final Season
Slattery also has two backup plans: He's eligible for directing two "Mad Men" episodes and guest-starring as a loony congressional candidate on "30 Rock." Would he be okay with winning for something other than playing Roger?
"I'd take it for craft service, I don't care," Slattery told TheWrap. "You don't want to sound blasé because of course it's an extraordinary thing if you get nominated for anything, but then you sort of have to put it out of your head. It's like spending a day on another planet. It has nothing to do with your life. It's all great."
Slattery talked to TheWrap about why our understanding of the "Mad Men"-era is dead wrong, the pursuit of momentary happiness, and his work in advertising on and off the show.
Was Roger and Joan's mugging last season a sign that the New York of the show is moving from the urban paradise of the '60s to the grittier, more dangerous '70s?
I don't know what "Mad Men" you're watching, but if you think that's paradise, you must have a better prescription than I do. Those people do not seem like they're living in paradise to me. Don Draper's character kind of bottoms out. My character becomes someone who turned from having the one client that turned the lights on in the place to having more questions than answers at this point. I think that's actually what makes the show so interesting. Most of those people are dissatisfied with their lot despite how good they seemingly have it.
Also read: Jon Hamm Signs on for Three More Years of Chain-Smoking and Womanizing
Right, I was thinking of the clothes, long lunches and cocktails in the office.
I don't think it got a hell of a lot better in the '70s. The drugs changed, a little bit. … I don't think the show deals in the sort of cliché version of the idealistic '60s versus the hedonistic '70s.
Do you play Roger as someone who's genuinely happy with doing whatever he wants, or as someone who's unhappy and trying to get whatever momentary happiness he can?
I don't think it's a cut-and-dry affair. I think what makes the character so interesting is that the character is complicated. One minute he's happy and feels like he's got things under control and that his life is complete, and the next he's in despair. He has a heart attack and sees that life is short and finite and tries to take steps to be happy. Life's mercurial and he tries to be happy, and is happy for a while, and then isn't.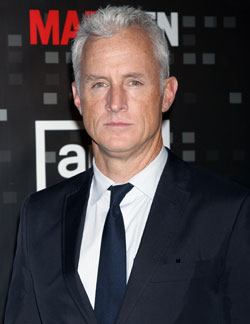 The marriage to Jane is doomed, right?
[Laughs.] For a time there it seemed like it was the only happy relationship on the show. Obviously he's attracted to Joan in many ways. I don't think Roger is naïve enough to think any one element or person is going to make you a happy person. You just try to get through the day.
Roger could always remarry Mona (Talia Balsam), since you're married in real-life.
That would be good. I'd like to see more Mona. Good character.
How close do you think the show came to losing Matthew Weiner during his negotiations earlier this year with AMC and Lionsgate?
He might say something different — I wasn't privy to all the ins and outs — but I don't think anybody at either the studio or the network thinks the show can be done without Matthew. It's his show. Yes, there are writers there, but every time I talk to them they give him great credit, and it's his show.
I guess it could go on — I mean it's happened before. It certainly wouldn't be the same. I can't imagine how it would be anywhere near as good.
Were you worried about the reports that Weiner was asked to cut six from the cast? Did you take that seriously at all?
Of course well-meaning people will send you a link saying, "Well, the first person who should be killed is Roger Sterling because he provides no function on the show anymore. In the agency he has no client anymore."
Did I worry about it? I thought about it. I thought well, I guess they could cut me out. It happens. We've lost characters. If story dictates that characters have to go, they have to go. So is it conceivable that Roger could have another heart attack or just walk into the sunset and retire? Sure, it could happen.
Weiner was also asked to add more explicit product placements to the show. Would that have bothered you?
If I was the creator of anything — a movie, a television show, a play — and someone came to me and said I need you to put more Pepsi and General Motors in the show and mention the names — in fact, I'm involved in a movie right now and the company loaned us a car, but the company said we have to say the name of the car. And I'm like, "Well, that's crazy." But that's how business is. It's been that way forever. … It's not the way you want to create a show.
And you're not a hardliner against advertising. You've done Lincoln ads.
Yeah. Having to create story around a product because they're paying is a different thing than "brought to you by." … At first I thought, well, do I want to do this? And you look around and it's hard to find someone who isn't doing it to one degree or another.