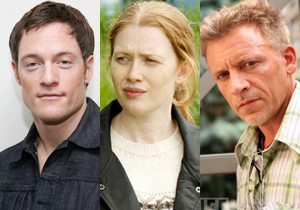 Bold, totally insane prediction: Edward James Olmos will appear out of the blue in the season finale of "The Killing" this Sunday as Rosie Larsen's murderer.
Also read: 'The Killing': Plenty of Red Herrings, but Whodunit, Really?
Okay, so that's never going to happen — but what else is a "Battlestar Galactica" fan to think after last night's penultimate episode brought in another former cast member, this time in the form of Tahmoh Penikett?
Penikett (above, left), who played passionate Galactica officer Karl "Helo" Agathon on the 2004-09 Syfy series, turned up midway through the episode as Detective Sarah Linden's ex-husband. This would surely have been a casting non-event — if Linden's fiance, Rick Felder, weren't also played by one-time emotionless Cylon agent Leoben, a.k.a. the actor Callum Keith Rennie (above, right).
Sworn enemies on "Battlestar Galactica" now duking it out for the same woman — or at least the affections of her son — on "The Killing"?
If this does morph into a full-fledged crossover, perhaps Michelle Forbes, who had a short run as lesbian Admiral Helena Cain on "Battlestar Galactica," will start batting eyes at Detective Linden as well.