Did 400,000 people somehow guess ahead of time that the season finale of "The Killing" wouldn't solve Rosie Larsen's murder?
The finale of the AMC drama scored 2.3 million viewers Sunday, down from the 2.7 million it averaged over its two-hour premiere April 10.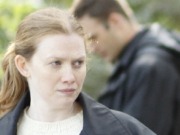 The show didn't need to kill to survive, however: AMC has already picked it up for a second season.
Also read: 'The Killing' Finale: Has the NYT Reviewer Been Paying Attention?
The show had a 1.8 household rating Sunday, according to preliminary numbers.
AMC said it had the second-highest debut season in network history, behind "The Walking Dead," the most-watched drama ever on basic cable.