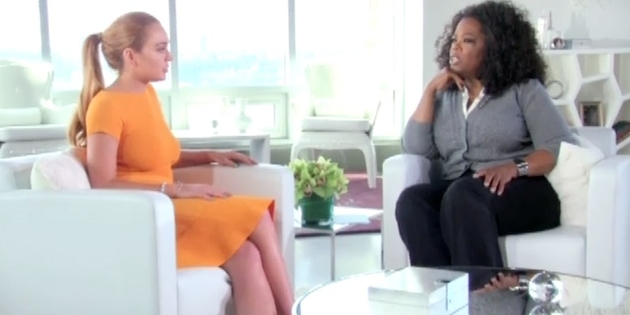 Lindsay Lohan's interview with Oprah Winfrey on Sunday night's "Oprah's Next Chapter" drew more than 1.8 million total viewers over two airings, OWN said Tuesday.
While those numbers represent a 7 percent increase in total viewers over the season average and a 6 percent boost in the women 25-54 demographic, they still pale in comparison to previous landmark interviews conducted by the OWN honcho on her network. Winfrey's January interview with disgraced bicyclist Lance Armstrong drew 3.2 million total viewers with its initial airing.
See video: Oprah Winfrey to Lindsay Lohan: Are You Addicted to Chaos?
Winfrey's interview with family members of deceased singer Whitney Houston, meanwhile, drew 3.5 million total viewers.
During Sunday's interview, Winfrey asked Lohan — who's also launching a reality series on OWN — about her troubled legal past and battles with substance abuse.
"When you get the first DUI — is that a wake-up call?" Winfrey asked. Along with, "What do you know about yourself now, that you wish you'd known six rehabs ago?"