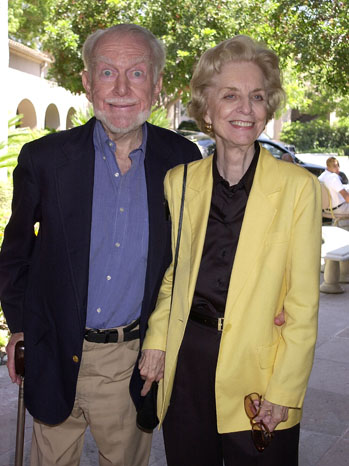 Madelyn Pugh Davis, a prolific television writer who helped create the hugely influential 1951-57 sitcom "I Love Lucy" and was one of the first successful women working in the medium, died from undisclosed causes in Los Angeles on Wednesday, April 20, at the age of 90.
Along with a skeleton staff, including her long-time professional partner, Bob Carroll Jr. (pictured, with Davis), she churned out nearly 200 scripts for the series, and helped set a new bar for small-screen hilarity that still resonates today.
Many of the classic sketches that she helped devise, such as Vitameatavegamin (enjoy the clip below), the candy factory and grape wrestling, are frequently cited as being among the best moments in television history.
Davis moved to Hollywood a few years after graduating from Indiana University in 1942 with a degree in journalism and soon landed a job writing scripts for CBS radio, where she met Carroll. The pair found a hit with "My Favorite Husband," a radio comedy about a wacky housewife and her frequently bewildered husband — the former being played by Lucille Ball.
Davis, Carroll and fellow writer Jess Oppenheimer were tasked with converting the radio program into a show for CBS television, and for adapting the husband role for Ball's real-life spouse, Desi Arnaz. The show debuted on October 15, 1951, and was an immediate sensation.
After the series' popular run, Davis continued to have a close connection to Lucille Ball, also helping to create her subsequent shows "The Lucy Show," "Here's Lucy" and "Life with Lucy." Davis wrote about her experiences working with Ball in a 2005 memoir, "Laughing with Lucy."
Davis was nominated for two Emmys during her long career and won a Los Angeles Times "Times Woman of the Year" Award in 1957.