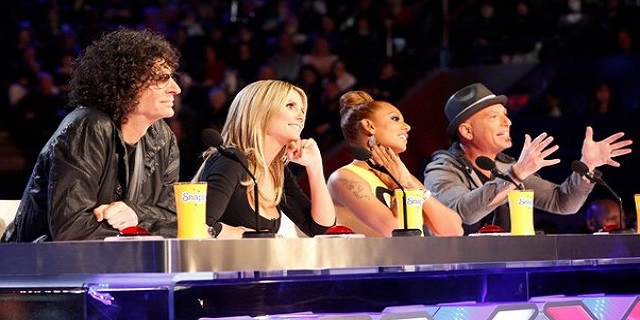 As the Fourth of July holiday draws closer and Americans are abandoning their TVs in favor of more worthy endeavors, network offerings saw ratings declines across the board for the few original offerings they were offering on Tuesday night.
On an evening of repeats and dips, however, "America's Got Talent" took the night's top ratings and propelled NBC to the top of the heap, according to preliminary numbers.
NBC grabbed first place in the advertiser-sought 18-49 demographic with a 1.8 rating/6 share and in total viewers with 7.4 million. That was largely due to "America's Got Talent" at 9 p.m., which drew the night's top numbers with a 2.3/7 — down 12 percent from last week — and 9.3 million total viewers.
Prior to "Talent," NBC ran a repeat of "Betty White's Off Their Rockers," followed by an original episode of the geriatric prank show, which dropped 20 percent from last week for a series low of 0.8/2 with 3.6 million total viewers.
Fox drew second place in ratings with a 1.5/5 and third in total viewers with 4.3 million. The network aired "So You Think You Can Dance," which was down 12 percent in the demo from last week, throughout its primetime slate.
Univision was third in ratings and fourth in total viewers with a 1.4/5 and 3.7 million.
CBS took fourth in ratings and second in total viewers with a 1.2/4 and 6 million. The network aired repeats aside from the time-period premiere of "Big Brother" at 9, which was off 18 percent from last Wednesday's episode for a 1.8/3 and took 5.6 million total viewers.
ABC ran fifth in ratings and total viewers with a 0.9/3 and 3.3 million. "Extreme Weight Loss" at 8 dropped 17 percent to a 1.0/3 and had 3.4 million total viewers. A "Body of Proof" repeat followed.