UPDATE: Now with time zone-adjusted numbers for the Emmys.
The Emmy Awards took a dip from last year's telecast, while NBC took an overall win thanks to NFL coverage on Sunday night, according to preliminary numbers.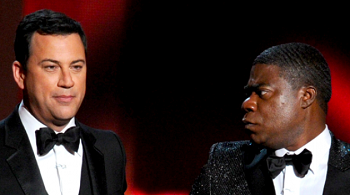 While NBC's numbers are approximate due to the nature of live sports, the network currently holds a commanding lead in the 18-49 demographic most important to advertisers with a 6.4 rating/7 share and in total viewers with 15.9 million. Following three consecutive episodes of "Football Night in America" from 7 p.m. to 8:30, which drew a 2.2/6, 2.9/8 and 5.9/16 respectively, the Pittsburgh Steelers/Denver Broncos game posted an 8 percent increase from last week with a 8.1/20 — the night's best performance in the demo. It also grabbed 19.8 million total viewers.
CBS took a distant second place in the demo and total viewers with a 3.0/8 and 11.4 million total viewers. NFL overrun from 7 until slightly after 8 drew a 7.0/20 and scored the night's highest total viewership with 21.3 million total viewers. "60 Minutes" followed (with slight football overrun in the first few minutes), drawing a 3.9/11 and grabbing 14.7 million total viewers. Repeats of "Person of Interest" and "The Mentalist" followed.
ABC came in third in the demo and total viewers with a 2.9/8 and 10.5 million. "Countdown to the Emmys" at 7 posted a 1.6/5 and drew 7.3 million total viewers. Time-zone adjusted numbers for the Emmy Awards — which aired from 8 to 11 p.m. — show a decline for the awards show, with a 3.8 rating in the demo compared to last year's 4.2. The good news for the Emmys? They were up in total viewers compared to last year, with 13.2 million compared to last year's 12.4 million, and enjoyed a higher total viewership than three of the last five Emmys telecasts.
Fox, which aired repeats throughout the night, took fourth in total viewers with a 1.5/4 and 3.4 million.