"Veep," HBO's new political comedy starring Julia Louis-Dreyfus, got off to an encouraging start with its premiere Sunday, drawing a total 1.7 million viewers over two airings.
The series, which stars former "Seinfeld" star Louis-Dreyfus as vice president Selina Meyer, drew 1.4 million viewers for its 10 p.m. airing — a 34 percent increase over the season average for "Eastbound & Down," which recently wrapped its run in that time period.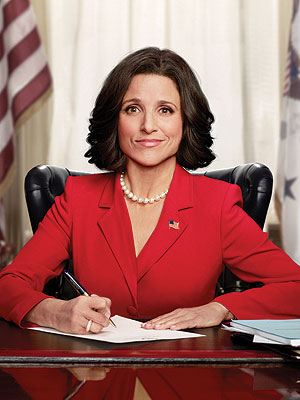 A second airing at midnight drew an additional 296,000 viewers.
Also read: "Game of Thrones": How David Benioff and D.B. Weiss Brought Westeros to Life
"Game of Thrones," meanwhile, remained largely on a par with last week's episode. Sunday's airings drew a combined 4.6 million viewers over two airings, slightly above last week's total of 4.5 million, though its initial 9 p.m. airing was sown slightly, with 3.7 million viewers compared to last week's 3.8 million.
The new comedy offering "Girls" also held steady compared to last week's premiere, taking a combined 1.1 million viewers — identical to last week's total — with 858,000 viewers for the 10:30 airing and another 257,000 tuning in at 12:30.