Stephen Colbert went toe to toe Friday night with the Republican National Convention's hottest attraction — Clint Eastwood's chair.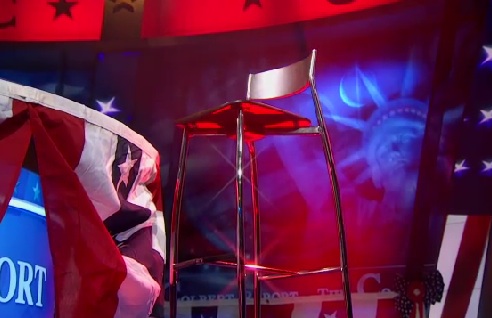 The stool in question played a key supporting part in the "Gran Torino" star's rambling, often profane address during the convention's final night, during which Eastwood pretended to have a conversation with President Barack Obama. The chair was a stand-in for the absent commander in chief.
Also read: Watch the 'Daily Show' Mitt Romney Bio: 'A Human Being Who Built That' (Video)
On "The Colbert Report," the chair didn't have nice things to offer about Eastwood.
"That's a terrible thing to say," Colbert said, responding to one of the chair's zingers about the octogenarian action star. "How do you know? Maybe he had a prescription for those."
It also appeared to be just as foul-mouthed on the Comedy Central program as it had been on the GOP's big night, when it suggested that Romney perform a sex act on himself.
"You want me to do what?" Colbert said. "There's no way I can fit my fist in there."
Here's the full, absurdist exchange, which is not nearly as bizarre as Eastwood's actual speech.