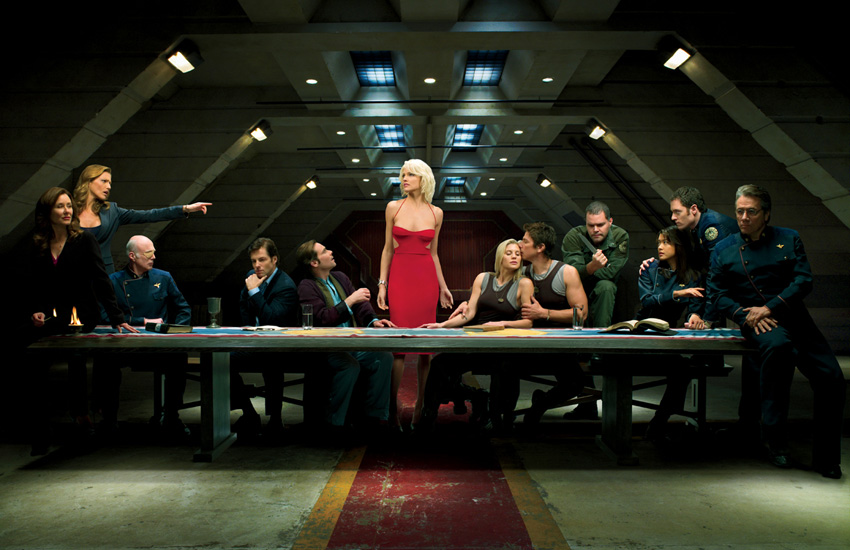 "Battlestar Galactica" has been off the air for just over a year now, but Syfy is already planning a second chapter in the critically beloved space adventure.
The network announced Friday that it has given a greenlight for "Battlestar Galactica: Blood & Chrome" from Executive Producer David Eick.
Universal Cable Productions will produce the two-hour pilot with Syfy.
The network also released a synopsis of what the series would cover, but it's strictly geared toward the rabid fan set. Syfy said "Battlestar Galactica: Blood & Chrome" takes place in the 10th year of the first Cylon war.
"Blood & Chrome" will take place 40 years before the events of "Battle Star."
It will apparently involve a war between humans and robots. The lead character will be a brash rookie viper pilot (is there any other kind?) who is assigned to the newest battlestar.
Michael Taylor wrote the teleplay from a story by Eick, Taylor and Bradley Thompson & David Weddle.
The network started airing "Caprica," another prequel to "Battlestar," this year, but no decision has been made on renewal. A decision on whether to give 'Caprica' another season will apparently be made by Nov. 15.