Idris Elba will play Laura Linney's love interest on four episodes of Showtime's upcoming original comedy "The Big C," the network said on Wednesday.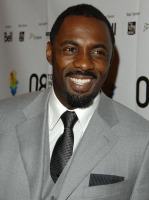 Elba will play "Lenny," a painter who has a relationship with the dark comedy's star Laura Linney.
Elba is best known for his critically acclaimed performance as drug kingpin Stringer Bell on the first three seasons of HBO's "The Wire." In 2009, he had a seven-episode guest stint as Steve Carell's boss on the fifth season of "The Office." He is currently starring in the BBC series "Luther."
In addition to his TV work, Elba landed several film parts after his character was killed off the "Wire" in 2007, including supporting roles in "American Gangster," "28 Days Later" and "This Christmas." Last year, he starred alongside Beyoncé in "Obsessed" as a man who was stalked by a co-worker.
"The Big C," which premieres Aug. 16, also stars Gabourey Sidibe, who received a Best Actress Oscar nod for her debut performance last year in "Precious."