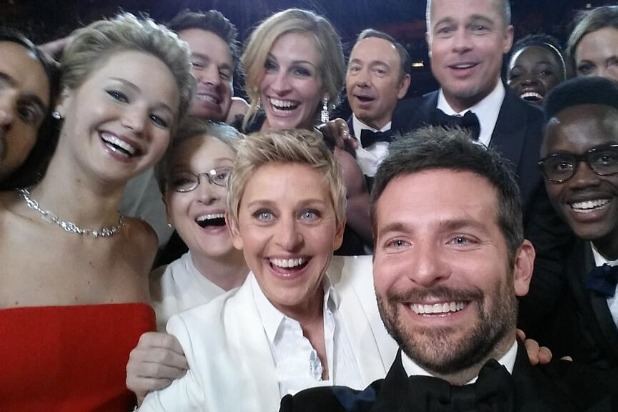 Tweets about the Oscars were viewed more than 3.3 billion times during a 24-hour period, Twitter said Tuesday. Twitter is eager to demonstrate its global reach to TV networks and advertisers, so revealed the number of "impressions" the Oscars generated for the first time.
The measurement indicates how many times tweets were displayed to users, whether on Twitter or on other websites. This is a different metric for Twitter, which typically reveals the number of tweets. There were 19.1 million of those Sunday night, which were viewed by more than 37 million people on Twitter's proprietary platforms.
Also read: Facebook and Twitter Rivalry Heats Up as Social Platforms Vie for TV Ad Money (Video)
The biggest tweet of the night – no surprise – was Ellen's celebrity selfie (above). In just 24 hours it received 2.4 million retweets – the number has grown since them – and was viewed by 8.1 million people 32.8 million times.
Confused? See the graphic to the right.
Also read: Ellen DeGeneres' Epic Oscars Selfie Has 2.6 Million Retweets
The only concern for Twitter? The number of tweeters. That figure ended up between five and six million, which means a small fraction of the telecast's 43.7 million viewers tweeted about what they were watching. Fortunately for Twitter, those tweets got in front of millions more people.