"INGLOURIOUS BASTERDS"
Release date: August 21
Domestic B.O.: $116.9 mil.
Int'l B.O.: $130.8 mil.
Production budget: $70 mil.
The story: David Linde reportedly helped oversee development of Quentin Tarantino's Nazi-hunting film, distributed in North America by Weinstein, from spec script. Universal, which distributed the movie abroad, enjoyed the better half of the wishbone. But for Linde and Marc Shmuger, it was too little too late.
"FUNNY PEOPLE"
Release Date: July 31
Domestic B.O.: $51.9 mil.
Int'l B.O.: $8.8 mil.
Production cost: $75 mil.
The story: Judd Apatow and Adam Sandler venture into "dramedy" territory with the story about a stand-up comic who goes through major life changes. Supposedly, the film is based on Apatow's life with Jim Carrey before both hit it big. But audiences rarely take to funnymen who take on somber bigscreen roles.
"BRUNO"
Release Date: July 10
Domestic B.O.: $60.1 mil.
Int'l B.O.: $76.9 mil.
Acquisitions cost: $42.5 mil.
The story: It started with a bang — a $30 million opening weekend — but it has all but disappeared from the radar domestically. The results show Sacha Baron Cohen has his hardcore fans…but that's about it. The film's fate was notably affected by social networking, with opening-night patrons of the movie — which garnered a "C" Cinemascore ranking — Tweeting their friends that this was no "Borat."
"PUBLIC ENEMIES"
Release date: July 1
Domestic B.O.: $97.1 mil.
Int'l B.O.: $98.8 mil.
Production cost: $100 mil.
The story: Universal suggested that another Michael Mann film, 2004's "Collateral," provided a useful business-model comparison — it was also released in the summer and took in $217 million. But that film costs less ($65 million) and didn't feature the director fighting with the star (Johnny Depp and Mann reportedly clashed).
"LAND OF THE LOST"
Release date: June 5
Domestic B.O.: $49 mil.
Int'l B.O.: $13 mil.
Production cost: $100 mil.
The story: U's biggest and most conspicuous miss of the summer, this version of the kitschy TV show stunk it up right out of the gate. It opened with a paltry $18.8 million and dropped significantly every week thereafter. It's a big movie with a big star (Will Ferrell), but it is one of 2009's biggest turkeys so far.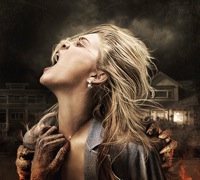 "DRAG ME TO HELL"
Release date: May 29
Domestic B.O.: $42 mil.
Int'l B.O.: $17 mil.
Production cost: $30 mil.
The story: Proof that genre films can quietly give good returns, Sam Raimi's horrorfest wasn't a huge win, but it at least went into the black. It unfortunately also shows that studios can't survive with these "little" movies; they need major films to support the corporate infrastructure.