Surviving a zombie apocalypse is complicated business, but watching a drama about a zombie apocalypse shouldn't be.
To get new viewers up to speed and give returning fans some humanoid factoids in preparation for Sunday's season premiere, here's our "Walking Dead" A to Z — a helpful list of 26 things you need to know about the undead and the people who loathe them.
A is for Andrew Lincoln, the British actor who plays "Walking Dead" Southern sheriff and de facto leader Rick Grimes. When the series began, Rick woke up in a hospital, after having been shot on the job. Unfortunately, while he was in a coma, a zombie apocalypse occurred, and Rick was left by himself to go on a mad hunt for his wife, Lori, and son Carl, all while fighting off the zombies that saw him as lunch. He finally met up with Lori and Carl, who'd been living with a group of fellow survivors at a makeshift camp.
Read more: Stephen King to Write Episode of 'The Walking Dead'?
B is for "Bicycle Girl," a.k.a. Hannah, one of the first zombies we met in season one. Her half corpse was stuck under a bicycle and growling at Rick when he first left the hospital. Now, we're getting the chance to learn more about Hannah, including the events that preceded her zombiedom, in a series of six webisodes at AMCTV.com.
C is for Chris Hardwick, the "Nerdist" podcaster and G4 host who will also host the new, live "Walking Dead" after-show, "Talking Dead." Airing each Sunday night at 11 p.m., "Talking Dead" will find Hardwick and company — including "Walking Dead" cast members and producers, as well as fans of the show — recapping and dissecting new episodes. It's like Bravo's "Watch What Happens: Live" post-"Real Housewives" talk show, except that the zombies are less nasty.
Read more: Netflix to Stream 'Walking Dead'; AMC Deal Also Covers IFC, WE tv, Sundance Shows
D is for Dale Horvath, the eldest survivor in Rick Grimes' group and the owner of the RV in which the survivors have hung out on many occasions. Dale (played by actor Jeffrey DeMunn) had planned to travel in the RV with his wife when he retired, but she died of cancer first. After the country became zombieland, he met up with sisters Andrea and Amy and they formed a pseudo family unit. Dale is a savvy, kind man, whose thoughtful observations have aided the Atlanta-bound group of survivors on more than one occasion. At the end of season one, he saved Andrea's life, but we learn in the season two premiere that someone, surprisingly, is not happy about that.
E is for Eat, something zombies try to do to the survivors, and something you probably shouldn't do while watching the show. The gore factor is high, and in the season two premiere, there are several scenes too altogether ookie to spoil — or describe — including one involving, shall we just say, zombie innards.
F is for Frank Darabont, the Oscar-nominated filmmaker who developed "Walking Dead" as a TV series. Darabont also directed the series' fantastic pilot episode and wrote several others, but he stopped running the show in July. Neither Darabont nor AMC execs have confirmed the reason for the exit. Reports suggested the filmmaker was unhappy the show's budget had been cut, particularly since "The Walking Dead" is far and away the network's most popular show, earning a record number of 18-49 viewers for its December season finale. Glen Mazzara, who wrote the season one episode "Wildfire," is the new "Walking Dead" showrunner.
Read more: How 'Walking Dead' Team Helped 'Breaking Bad' Get THAT Shot for the Season Finale
G is for Grimes, Lori Grimes, Rick's wife, played by "Prison Break" alum Sarah Wayne Callies. Lori was incredibly happy when Rick showed up in the survivors' camp, since everyone assumed he'd been killed by zombies while he was in the hospital. But she was feeling something else, too: guilt. Thinking Rick was dead, she and his best friend, sheriff's deputy Shane, consoled each other through their grief by launching an affair.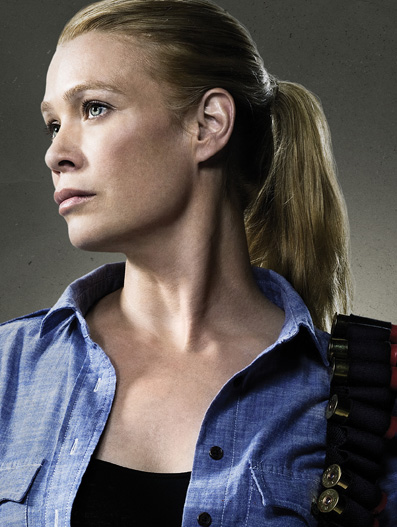 H is for Holden, Laurie Holden, the "X-Files" and "The Shield" actress who plays survivor Andrea. Andrea was a successful attorney who was on a road trip with her younger sister Amy when the zombie apocalypse happened. Andrea and Amy became stranded and were saved by Dale, and joined the survivor camp outside Atlanta. But during an attack on the camp, Amy was killed by a zombie and Andrea was forced to shoot her sister in the head to prevent her from going all zombie on everyone else. At the end of season one, Andrea had decided to die in the CDC explosion, until Dale convinced her to leave. In season two, she's sunk deeper into a depression about her sister's death and the hopelessness she feels in the new zombie world.
I is for IronE Singleton, the Atlanta-born actor who plays survivor T-Dog. In season one, a rational T-Dog got into a fight with the irrational Merle, who was then handcuffed to a pipe. When T-Dog returned to free Merle and save him from an onslaught of zombies, he accidentally dropped and lost the handcuffs key and had to leave Merle behind. In the season two premiere, T-Dog suffers a wicked injury that leads to some surprising assistance from a fellow survivor.
J is for Jon Bernthal, a.k.a. Shane Walsh, Rick Grimes' best friend and sheriff's department partner. Shane had tried to save Rick in the hospital, but believed he had died when his life support failed. Shane helped Lori and Carl flee town to escape the zombies, and the three of them were part of the Atlanta survivors camp, with Shane happily leading the camp and ensconced in an affair with Lori.
When Rick showed up, Shane had mixed feelings; he was happy to see his friend, but unhappy that Lori ended their affair and that the camp started to look to Rick as their leader. Shane, at one point witnessed only by Dale, even considered shooting Rick in the back of the head, and, drunk and frustrated inside the CDC, nearly raped Lori. In season two, Shane is increasingly unhappy with the love triangle and his position within the group, and he becomes dangerously resentful of Rick.
Read more: 'Walking Dead': Watch Every Season 2 Trailer (Video)
K is for Kirkman, Robert Kirkman, the creator of "The Walking Dead" comic book series that Frank Darabont adapted into the AMC series. Kirkman is an executive producer on the TV show and wrote the season one episode "Vatos." And for those "Walking Dead" TV fans who haven't yet read the comics series, warning: the show follows much of the comics' storylines, so reading the comics means major potential spoilers.
L is for Lennie James, the "Jericho" star who plays Morgan, the first man Rick ran into when he left the hospital, and the one who clued him in on the zombie situation. Morgan and his son Duane remained in the Grimes' hometown because Morgan's wife had been zombified, and he couldn't bring himself to leave or kill her, even though she posed a constant threat. Rick and Morgan vowed to stay in contact, once a day, via walkie-talkies. In the season two opener, Rick chats into his walkie-talkie with Morgan.
M is for Merle Dixon, a survivor played by Michael Rooker. Merle and his brother Daryl were part of the Atlanta survivor camp, and were in Atlanta looking for supplies when they met up with Rick. Volatile Merle became angry that his group had assisted Rick, so he was handcuffed to a pipe to prevent him from fighting with everyone. T-Dog tried, and failed, to save him later, and it was assumed that Merle had been attacked by zombies. But when the Rick-led group eventually returned to try to save him again, it was revealed that Merle cut off his cuffed hand to escape. Further searching suggested Merle was still alive, but he hasn't been seen nor heard from since. Expect that to change in season two.
N is for Norman Reedus, who plays survivor Daryl Dixon. Like his brother Merle, Daryl at first appeared hostile and only interested in helping himself and his brother. He forced the rest of the group to return to Atlanta to look for Merle after the handcuffed Merle was left behind, and harbored some anger at this fellow campers for the fact that his brother was MIA. Daryl is also one of the most skilled zombie killers — thanks to a lack of squeamishness and his serious skills with a bow and arrow — and, despite being written off at first as a redneck, is also quite clever. And those attributes only become more and more critical in season two.
Read more: Frank Darabont Vacating as 'Walking Dead' Showrunner
O is for Otis, one of the new characters introduced in season two. Otis (Pruitt Taylor Vince) is a ranch hand who, along with his ranch boss Hershel Greene and Greene's family, become part of the survivors' story when he does something shocking at the end of the season premiere.
P is for Peletier, the survivor family made up of mom Carol, her abusive husband Ed and their daughter, Sophia. Carol (Melissa McBride), having been battered and suppressed for years by Ed, became stronger and more confident after Ed was killed by zombies in season one. But something happens in the season two premiere that shakes her world again.
Q is for Quitting, which two of the survivors consider doing in season two. Two of the survivors consider running away from the Rick Grimes-led group and forging ahead on their own.
R is for Riggs, Chandler Riggs, the 12-year-old actor who plays Rick and Lori's son Carl. Young Carl has been through quite a bit. First he assumed his father was dead, and had to live amongst the strangers in the survivor camp. Then he learned he was alive — but still remains under constant threat of zombie attack. Through it all, he has remained a sweet, relatively calm boy, but the stepped up danger the survivors face in season two comes down especially heavily on Carl and his playmate Sophia.
Read more: 'Walking Dead' Gets a New Showrunner
S is for Secret, the one that CDC researcher Dr. Jenner whispered into Rick's ear before the building exploded. Will we ever find out exactly what Rick heard? Yep, and during season two.
T is for Toys. Because no self-respecting, marketing-savvy geek-favorite TV show would fail to create a line of goodies for its fans. "The Walking Dead" aficionado can shop for such collectibles as Rick Grimes and Daryl Dixon action figures, Bicycle Girl and Tank Zombie busts, "Walking Dead" trading cards and a "Walking Dead" board game in which you play as one of the survivors … until you get eaten and start playing as a zombie.
U is for Uproot, which the survivors do, again, after the CDC explosion. Deeming Atlanta dunzo, the gang packs up and drives off towards Fort Benning, a military post 125 miles away. Of course, you can count on nothing ever going smoothly when zombies are involved …
V is for Videogame. Telltale Games is developing a "Walking Dead" videogame, tentatively scheduled for release late in 2011 or early in 2012. Robert Kirkman has said that it will focus more on the characters and their storylines, and less on just killing as many zombies as you can. Though there will be plenty of opportunities to kill zombies, of course.
W is for Walker, one of the names the survivors use to describe zombies. AMC is sponsoring a contest that will allow one "Walking Dead" fan the chance to play a walker on the show. The winner of the cleverly-titled "Stagger-On Role Sweepstakes" gets to visit the set for season three and get zombified by special effects designer Greg Nicotero's team, all in preparation to walk amongst the walkers for a "Walking Dead" episode.
Read more: AMC Launches 'Walking Dead' Live After-Show
X is for Extras, phonetically at least. Not only do we get an extra-long season two premiere that clocks in at 90 minutes, but season two has extra episodes — 13, as opposed to season one's six. The first seven air through the end of November, then the show takes a break and the final six season two episodes begin airing on Feb. 12, 2012.
Y is for Yeun, Steven Yeun, the actor who portrays pizza delivery boy-turned-zombie fighter Glenn. His job as a delivery boy means he knows every street, and shortcut, in Atlanta, which proved repeatedly useful to the survivors as they went into the city to hunt for supplies. It was during one of these trips that Glenn saved Rick, who was being attacked by a swarm of walkers. Glenn continues to be a resourceful and brave member of the group in season two, and is even going to spark up a romance when the survivors meet the residents of Hershel Greene's farm.
Z is for Zombies, of course. A few rules to remember about the zombies of "Walking Dead": if you're bitten by one, you will become one; they're not particularly speedy, but since they're going to eat you if they catch you, whatever speed they're going at is too fast; their vision is poor, but they have a strong sense of smell; they don't talk, but their pack mentality means that if one spots you, the rest will pick up on it and follow; and, they have sensitive ears. For example, if you're in the season two premiere and you're trying to hide from one of them in a locked bathroom and you drop something on the floor … the zombie is going to hear you and freak out on you accordingly. Just for example.
"The Walking Dead" season two premieres on Oct. 16 at 9 p.m. on AMC.