DreamWorks Animation stock has been on a publicly traded roller-coaster ride over the last eight months, with Wall Street driving up the stock after successful theatrical runs, then sucking it into steep valleys after disappointing openings.
On Monday, one investment firm advised its clients to get off the ride.
"We continue to prefer stocks with exposure to TV and advertising-driven assets with higher growth and less earnings volatility than DWA," read a Morgan Stanley report, labeling DreamWorks Animation stock "underweight" compared to its trading price.
The latest downturn came with the studio's latest 3D-animated film, "Megamind," stalling out at the box office short of Street projections, and "How to Train Your Dragon" DVD sales lagging behind forecasts.
For DreamWorks, which opted not to comment to TheWrap, the Morgan Stanley lashing probably seemed like business as usual, with the company's stock price peaking at around $44 per share in late March, then dipping below $28 per unit in mid-July, before closing Tuesday at just over $31 per share.
That's a fluctuation in share price of over 36 percent. No other big, publicly traded media company has come close to that kind of stock volatility of late.
"This is not Disney," noted Marla Backer, an analyst with Hudson Square Research. "It's not surprising that for a small studio that releases two to three films each year, there would be a micro-focus on each film it puts out."
"You only have a limited number of data points to go off of with these guys," added another investment analyst.
DreamWorks has faced overt pressure from Wall Street to acquire, merge with or be bought out by the kinds of entities that could broaden its asset portfolio beyond just 3D-animated movies.
But the company clearly seems to prefer growing these broader revenue streams itself.
For example, DWA co-produces with Nickelodeon the cable TV hit "The Penguins of Madagascar" and will soon co-produce a TV version of "How to Train Your Dragon" with Turner for Cartoon Network.
In September, when DreamWorks reported a 40 percent increase in third-quarter revenue to about $190 million, nearly a quarter of it came from "library and other revenue."
"They've moved pretty quickly to move their IP onto television," Backer noted.
But apparently not quick enough for most on The Street, which is still focused on the theatrical and DVD performance of DreamWork's movies.
And the bar is high.
On "Megamind," for example, Morgan Stanley lowered its estimate for total domestic box-office revenue from $215 million to a still-lofty $175 million, while dropping the 3D-animated film's foreign theatrical revenue projection from $295 million to $235 million.
And even that might be too high. With "Megamind" about to lose the bulk of its 3D exhibition to a holiday onslaught of 3D films that started with Disney's Wednesday release of "Tangled," even $175 million domestically seems like a stretch.
"Megamind" is at just over $110 million domestically entering its fourth weekend and is dropping much faster than other recent DWA releases.
"This will be an important weekend," Backer said.
Morgan Stanley also harshed on fourth-quarter DVD sales projections for "How to Train Your Dragon," predicting they'll come in well under original sky-high forecasts of under 7 million discs sold.
And as for the upcoming Dec. 7 DVD release of the fourth and final "Shrek" movie, the investment bank noted, "Our estimates for 'Shrek' remain below consensus…"
Of course, it was "Dragon and "Shrek Forever After" that keyed DWA's wild ride, starting with the $43.7 million late-March opening for the former — which sent the company's stock down 9 percent.
Share prices steadily perked up when it became clear that "Dragon" would recover from its slow start and reach nearly $500 million in worldwide theatrical receipts — but then soft pre-release tracking for "Shrek 4" started the downward cycle anew.
Then, in mid-June, after the 3D "Shrek" movie debuted to a soft $70.8 million — over $50 million less than the non-3D "Shrek the Third" three years earlier — Wall Street lowered the boom, with share prices plummeting below $28. That was about 36 percent lower than they had been trading just three months earlier.
"Shrek Forever After" recovered nicely in the foreign markets, grossing $737.4 million globally to date.
This begs the question: Hasn't Jeffrey Katzenberg's company earned some trust by now after producing a reliable string of global animated hits?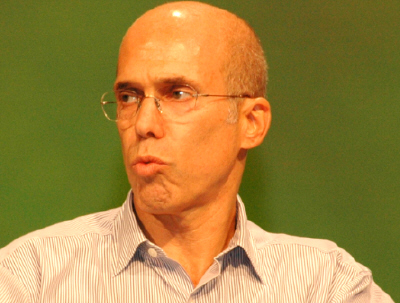 The problem isn't trust, Backer notes. It's "expectations," and they're "too high."
Why?
For one, she said, the financial community tends to compare DWA too closely to Pixar, a Disney division which — viewed from the perspective of The Street — has a walk-on-water reputation.
"Everyone wonders, why aren't they Pixar?" Backer noted. "But who else is Pixar?"
But the bigger problem may be the effective salesmanship of Katzenberg himself.
Speaking to TheWrap, one top exhibition-chain executive said Katzenberg "oversells" the company to investors.
Indeed, it was Katzenberg who told investors several times last year that not only did he expect 2010 to be the biggest in the studio's history, he thought that 3D would increase film revenue by a factor fo $30 million-$40 million a movie.
"He talks in a lot of hyperbole and he creates a lot of these unrealistic expectations himself," added one financial analyst.