Warner Bros. TV asked "several times" for a statement from Charlie Sheen's doctor certifying that he could come back to work — and didn't get one, the studio said in its letter firing the actor.
Without a doctor's permission, which would have allowed shooting to resume as scheduled Feb. 28, the producers worried that any return to work on the hit CBS sitcom would just see more of the same from Sheen, an individual with knowledge of the situation told TheWrap.
Also read: Sheen's Lawyer: Warner Bros. Letter 'False,' Will Sue for Breach of Contract
Further, when the studio suspended the show rather than going ahead with the Feb. 28 return, it "requested from him any proposal for cure of his condition necessitating the suspension," according to the studio's termination letter. As the WBTV letter adds, "no such proposal has been received."
The allegation raises questions about what medical treatment Sheen has sought since announcing Jan. 28 that he was entering rehab, a move that forced the show into hiatus.
He opted to undergo rehab at home instead of at a licensed facility, and mocked medical treatment when he was asked last week on "20/20" if he might be bipolar: "And then what? What's the cure? Medicine? Make me like them? Not gonna happen."
Also read: Read: Warner Bros. TV Letter Terminating Charlie Sheen
Sheen's efforts to take care of himself medically will be just one likely point of dispute in what could be years of legal wrangling between his attorneys and former employers. Sheen may have helped the other side when he went on a media blitz after the show's cancellation for the season, talking about his history of drug use and his slip-ups on "Two and a Half Men."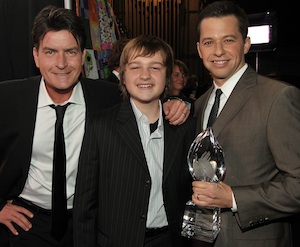 As Sheen ranted, his then-bosses did the wise thing: Nothing.
Warner Bros. Television and CBS kept quiet and waited out Sheen (pictured right with his "Men" co-stars Jon Cryer and Angus Jones in happier days), giving him plenty of rope to make a series of statements that helped provide the basis for his firing. He boasted about smoking "seven-gram rocks," missing rehearsals, and using pieces of furniture on the set to support himself after long nights.
Whether those arguments hold up will likely be up to an arbitrator, if the show and its star can't reach a settlement before the case goes to court. So far, they've been unable to agree on much.
Sheen's attorney, Marty Singer, says there's no question Sheen will sue. He argues that Sheen has misbehaved before — even pleading guilty to misdemeanor third-degree assault last year — with no repercussions.
Warner Bros. only saw fit to fire Sheen, Singer said, when he criticized show creator Chuck Lorre in a series of interviews. Sheen has contended that Lorre's jokes were "tin cans" he managed to turn into "gold," called him "Chaim Levine," and said the show had to be canceled for the season because Lorre hadn't written new episodes — not because of Sheen's rehab.
In a letter to Singer detailing the justification for the show's suspension, Warner Bros. cited an "Incapacity" clause in his contract. It said examples of incapacity include "any material change in Performer's appearance or other attributes."
The studio also accused him of "moral turpitude (including but not limited to furnishing of cocaine to others as part of the self-destructive lifestyle he has described publicly)."
All but outlining its future case, the studio, which hired a well-respected legal team Friday, used Sheen's public statements against him to describe problems with his job performance.
On Feb. 11, Sheen, who said he was undergoing treatment at home, told radio host Dan Patrick that he while he'd "never been drunk, never been high on the set once," he had had rough days after long nights, and sometimes asked the director "to move my mark a little bit just so I could be next to a piece of furniture or table… so I wouldn't fall over."
Also read: Charlie Sheen's Secrets for Staying Upright on the Set of 'Two and a Half Men'
"But but but but but Dan," he added. "That is an expert move by a seasoned professional. I'm sorry. An amateur stays on his mark and then falls over during the run-through."
The termination letter also described an "inability to deliver lines, inability to collaborate creatively with staff and crew, inability to work with the executive producers, inflammatory comments poisoning key working relationships, and frustration of the Show's creative environment by the public spectacle of his self-inflicted disintegration."
Read also: Charlie Sheen: Joking Aside, Is He Mentally Ill?
The company said that it had "outtakes of the filming," which will certainly show up in any court case, that showed Sheen "had difficulty remembering his lines and hitting his marks."
Warner Bros. TV also noted Sheen's tardiness in getting on set on Jan. 11 upon returning from an apparent Vegas bender and his absence at Jan. 13 and 14 rehearsals. The show said Sheen treated treated the rehearsals with "contemptuous and dismissive views" when he declared in an interview, "I missed practice. Come on guys, we're talking practice."
Sheen, who joked about the line again in an interview with a Philadelphia radio station Friday, was quoting former Philadelphia 76ers great Allen Iverson, who famously clashed with management and once defended himself at length over missed practice.
Iverson now plays professional basketball for a league in Turkey.