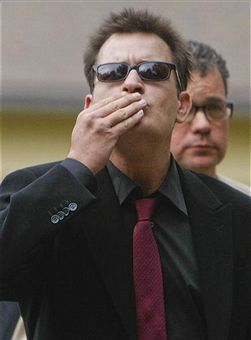 Like so many times before, Charlie Sheen likely will get off with little more than a whole lot of people shaking their heads.
With no arrest made and no charges filed, legal experts and people close to the case say there's almost no chance that the actor's reportedly drunken tirade in a New York hotel will have any impact on his probation in Colorado.
Nor should it affect his status with the CBS hit "Two and a Half Men."
NYPD officers were called early Tuesday to Sheen's trashed room at the Plaza Hotel, where he was reportedly found naked and drunk after an unidentified woman — apparently an "escort" who had locked herself in the bathroom — called hotel security to report that the actor was going berzerk.
Read also: Charlie Sheen Found Drunk, Naked at NYC's Plaza Hotel
But because Sheen was taken to the hospital instead of jail, the incident has no bearing on his probation in Aspen, Colorado, which is set to expire in eight days.
Reached by TheWrap, Assistant Deputy District Attorney Arnold Mordkin, who handled Sheen's domestic abuse case in Aspen earlier this year, said he was aware of the incident through press reports — but that he wouldn't speculate on a potential outcome.
All the same, Mordkin indicated to TheWrap that even if charges were filed — which he said at this point would probably happen after Sheen's probation expires next week — there were a number of factors and conditions that would need to be met for prosecutors there to hold him in violation.
(Considering the media and security headaches that local authorities went through to get through his domestic violence case with wife Brooke Mueller, here's betting they're holding their breath in Colorado for the next few days.)
Stuart Slotnick, managing shareholder of Buchanan Ingersoll Rooney and a criminal defense attorney, pointed out a number of things in the Tuesday night fracas that could trip Sheen up: He was reportedly in the company of a prostitute, told officers he'd been using cocaine and damaged property at the Plaza Hotel.
But leave it to Teflon Charlie to have a way out on each:
•Though possessing drugs is a crime in New York, just taking them — or admitting to taking them — is not. Bereft of powder or pipe, that's a nonstarter. UPDATE: TMZ says there were no drugs found in the suite.
•Some kind of criminal mischief charges on account of all that broken furniture? Fat chance. The Plaza Hotel, a choice destination for discreet celebrities (along with the Mercer) in New York, would sooner press the plunger on a cache of TNT in the basement than press charges against Sheen. More likely they'll press his credit card for a room renovation.
•The alleged escort that Sheen was with could go after him for menacing or harassment — again, at her own peril. "Unless this woman sees this as an opportunity to make money and get famous, she's probably not going to cooperate and go out there and speak," Slotnick told TheWrap.
And though there be no court order to compel him, Sheen is headed back to Promises in Malibu for more rehab, Radaronline.com reported Tuesday.
As for CBS and Warner Bros. TV, all's quiet. Neither would comment to TheWrap about the future of "Two and a Half Men," which was on a one-week shooting break while Sheen was in New York. (UPDATE: According to several reports, Sheen was discharged from the hospital and on his way back to Los Angeles to shoot a cameo in a film.)
With history as our guide, that means there's no change, at least not until they're done wringing every last penny from the No. 1 hit comedy — and paying Sheen an industry-high $2 million per episode.