Get TheWrap's Complete Coverage of the 84th Annual Academy Awards
Backstage in the "gifting tent" at the Independent Spirit Awards on the beach in Santa Monica on Saturday, a company was offering high-intensity juices for movie stars to look their best from the inside.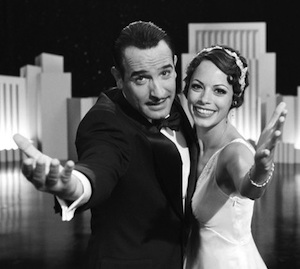 I wondered: Who was going to notice?
Also read: 2012 Oscars: Complete List of Nominees
Which is the same thing I wonder about the Academy Awards. Will America care?
As the 84th Academy Awards gets underway today, I have a feeling in the pit of my stomach that the American public might not show up. The nine movies nominated for Best Picture are more obscure than in most years. There is a noted paucity of movie stars, a problem that has compounded over the years as the number of real movie stars has dwindled, while Best Picture is increasingly owned by small, indie movies.
And then there is the lack of drama. "The Artist," driven by the relentless campaigning of Harvey Weinstein, has swept every award from The Golden Globes down to the Spirits on Saturday. He managed to have director Michel Hazanavicius plucked from the tarmac at LAX just in time to accept the Best Director award on the beach (Now that's stagecraft).
Although "The Artist" has done spectacularly well by the standards of what every reasonable person thought it might do — $32 million as of this weekend and counting — most Americans will really only get a notion of this film during tonight's awards.
The telecast, to those who've been watching the race, will feel like a foregone conclusion in just about every category. And certainly in the biggest one, Best Picture.
The movie industry gets caught in the cycle of manic campaigning every year, and this year more than most because of the lack of a clear front-runner.
And by this time in the season, it always feels exhausting, with everyone I ran into Saturday sighing the same mantra: It's almost over.
It's hard to tell how much America cares about any of this. The ratings of this telecast will be an important sign. And they may have little to do with how well Billy Crystal – a veritable star in his heyday, about a generation ago – performs as host.
Hollywood needs to pay attention to this. The Oscars cannot devolve into a wildly expensive broadcast party for an elite club of 6,000 and their best friends. Another year like this one will be a dangerous step toward irrelevance.
What's the remedy for this? It's always the same one: Make Better Movies.