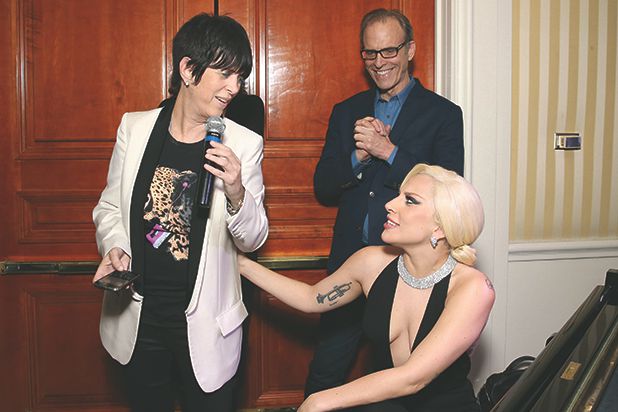 This story first appeared in the Down to the Wire issue of TheWrap Oscar magazine.
After eight Academy Award nominations but no wins over 28 years, Diane Warren can only think of one time when losing really hurt. It came in 1997, when the songwriter headed to the Shrine Auditorium convinced that she was going to win the Oscar for "Because You Loved Me," a soaring Celine Dion ballad from the movie "Up Close and Personal."
"I thought, 'God, that's gonna win,'" remembered Warren. "Your category comes up and they stick a camera in your face, and then 'You Must Love Me' from "Evita" won. And of course they turn the camera right off because now you don't matter at all, and I just went 'fuuuuuck.'"
She laughed. "That was the one time I was really bummed. Every other time I've been like, 'Whatever, it's cool to be nominated.'" A pause, and a shrug. "But this year I am really hoping, I'm not gonna lie. Some people say, 'Oh, it doesn't matter,' but yeah, it does."
Also Read: Inside Oscar Nominees Luncheon: Sly Stallone, Academy Diversity Are Talk of the Day
A 13-time Grammy nominee and one of the most successful songwriters of the past three decades, Warren has her hopes up because of "Til It Happens to You," the song she wrote with Lady Gaga for the Kirby Dick-Amy Ziering documentary about rape on college campuses, "The Hunting Ground."
It is one of the most high-profile of the nominees, a brassy anthem that challenges those who say things will get better with a flat truth: "Tell me how the hell could you know/…Til it happens to you, you don't know how it feels."
"The normal human thing is to say, 'It's going to be okay,'" said Warren. "I find I do it myself to my friends. But maybe it won't be okay. And certainly, when you're in that moment, you're not ever thinking that."
Warren has written songs for more than 100 films over the years; her Oscar nominations also include songs performed by Jefferson Starship ("Nothing's Gonna Stop Us Now"), LeAnn Rimes ("How Do I Live"), Rita Ora ("Grateful") and Aerosmith ("I Don't Want to Miss a Thing"). She was brought aboard "The Hunting Ground" by music supervisor Bonnie Greenberg, who told her stories of some of the women in the film, rape victims who became activists.
"I kind of related it to my own situation," Warren said. "I had my own sexual assault/molestation situation when I was 12, and I didn't tell anybody. I just tapped into that. I wanted to write a song that fit the movie, but could also fit outside that — you can hear the song and think about anything difficult that you go through."
Also Read: Why New Oscars Rules Mean More Diversity, Mad Members
She made a demo and played it over the phone to Lady Gaga. "I thought she was the perfect person for this," Warren said. "I heard that she had been raped also, and I thought, she'll either say, 'How dare you play this for me' and hang up, or it's going to resonate with her. And she started crying on the phone."
Warren immediately flew to New York and went into the studio with Gaga. "My version was very sad," she said. "And she really brought it to life. She made this epic, angry record out of a sad song, and it became very empowering." (Warren declined to comment on recent charges from songwriter Linda Perry, later retracted, that Gaga didn't contribute enough to warrant a songwriting credit.)
But writing and recording the song was only one part of the struggle. Originally, there were no plans to release the song beyond its appearance in the film; Lady Gaga didn't have a new album coming out, and her record company wasn't planning to release it as a single.
Also Read: Oscar Nominations 2016: The Complete List
"That song was never gonna come out, but I wasn't going to let that happen," said Warren, who approached executive producer Paul Blavin, got partial financing for a video, added her own money and then talked director Catherine Hardwicke into making a video that ended up drawing close to 25 million YouTube views.
"This whole thing has been talking people into things," Warren said. "And when once they get into it, they're in it with their heart and soul."
In a way, the blunt message in "Til It Happens to You" is more representative of Warren than many of her other hits; in person she comes across as darker and more cynical than her music.
"I am cynical," she admitted. "How can you not be? I think I'm a cynical romantic, though. I'm cynical but I'm hopeful. I have a lot of belief in the healing power of music. So when I'm writing, the cynical goes away and I just want to write a great song."
Click here to read more from the Down to the Wire issue of TheWrap Oscar Magazine.