With Labor Day now lurking on the calendar, the promotional deluge for the new TV season will soon drown the town. New and returning stars started popping up at events this week to fire some publicity warning shots.
Most visibly, the CW's fall comeback "Melrose Place" planted its flag on the actual Melrose Place (the West Hollywood street itself) for a Saturday night bash. New "residents" Katie Cassidy, Ashlee Simpson-Wentz (pictured together at left) and Jessica Lucas ("Cloverfield") mixed with returning alumni like Daphne Zuniga and Josie Bissett. It was a "half-homecoming" for Laura Leighton. She brought her real life husband (and original "Melrose" castmate) Doug Savant, who will keep working at a different address this fall — Wisteria Lane.
Simpson-Wentz and Cassidy also paired up two nights earlier as guests of InStyle magazine (picture at left by Getty Images). Michael C. Hall, Emilie De Ravin, "House's" Jennifer Morrison and Mindy Kaling joined a talent huddle the size of a football team for InStyle's Annual Summer Soiree. The magazine's editor Ariel Foxman hosted the 8th edition of the event at the London Hotel. Eliza Dushku, "Amerian Idol" judge Kara DioGuardi and the CW's "Jessicas" (Jessica Stroup, "90210," and Jessica Szohr, "Gossip Girl") hit the black and white zebra carpet, also talking up their TV projects. The mag's summertime echo of its famed Oscar Night bashes even drew those who could easily have begged out — expecting parents Taye Diggs and Idina Menzel, who posed for photos featuring the baby bump. Cat Deely, host of Fox's summer, and now fall, hit "So You Think You Can Dance." lit up a photography flash storm arriving with actor Jack Huston, the latest addition to the "Twilight" juggernaut.
ABC's "Dancing with the Stars" dancers and stars hit the ground running after the new cast was announed early last Monday morning. By Wednesday night, they were everywhere. New star Macy Gray hosted a party at H.wood behind the Kodak Theater. Meanwhile, dancers Lacey Schwimmer and Mark Ballas fielded questions at the launch party for merged PR firm EMC-Bowery at what's become that industry's Wednesday night clubhouse, Nobu. Even former cast like Gilles Marini faced the cameras to weigh in on what's next for "DWTS," one of last season's top 5 ratings winners. Marini was joined by Mena Suvari, Taryn Manning and Roger Cross at the M.D.M.A. fashion show on an usually eventful Wednesday night.
Amidst all the TV talent out and about this week, the film community partied, too. Latino Hollywood's best — like Benjamin Bratt, Talisa Soto and Andy Garcia — donned their black tie best for the 24th Imagen Awards on Friday night. Honoring positive portrayals of Latinos in the media, Jimmy Smits and author/host Susie Castillo helped pack the Beverly Hilton. Tom Cruise was even more of an eye magnet than usual, sporting "Interview with the Vampire"-era long hair. Cruise came to support lifetime achievement honoree and CAA Agent Emanuel Nunez (pictured at right).
In other film milestones, can you believe it's already been a decade since "Blair Witch"? The 1999 Sundance diamond in the rough, produced documentary style for $35,000 grossed $240 million and graced the covers of Time and Newsweek simultaneously around the time of Y2K bug hysteria. The film celebrated a 10-year reunion to open the American Cinematheque's Annual Festival of Horror on Thursday. Where are the cast and filmmakers now? Premium cable. "Witch" actor Josh Leonard now appears on HBO's just renewed "Hung," while then co-producer Mike Monello runs a marketing company servicing HBO sister show "True Blood."
A mini "Lord of the Rings" reunion took place the night before. Dominic Monaghan stopped by Elijah Wood's DJ booth at the Viceroy in Santa Monica as he spun the tunes at a birthday party. Whose? Blake Mycoskie, the guy featured in the ubiquitous "I give away shoes in third world countries and do it all from my Blackberry" TV ad.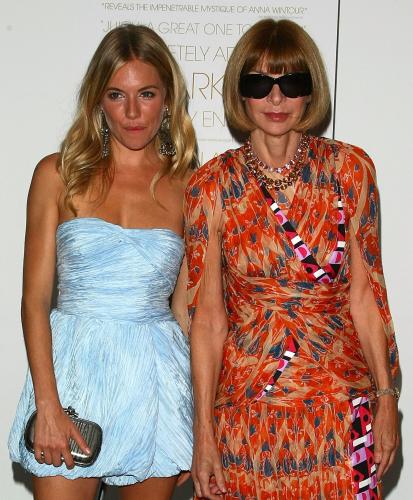 Over on the east coast, style icon Anna Wintour (pictured at left with Sienna Miller) may have exonerated millions of fashion faux pas when she wore sunglasses at night to her film's NYC premiere. The editor covered her eyes at a screening of Vogue-centric documentary "The September Issue" at NYC's Museum of Modern Art on Wednesday night. At the after-party, filmmaker RJ Cutler looked on as even high wattage stars like Renee Zellweger and Miller orbited Wintour. The "Anna Wintours" of real estate (Donald Trump) and celebrity (Sean "Diddy" Combs) came to kiss the ring alongside fashion peers Zac Posen and Donna Karen.
By Saturday, the party people headed to Malibu. Film and music star Chris "Ludacris" Bridges teamed up with National Lampoon to host 350 supporters of his at-risk youth focused Ludacris Foundation. Ciara and Pussycat Doll Melody Thornton watched the host's poolside performance. Lost on most of the revelers soaking up the sun and Caroline D'Amore's tunes? They were partying in Cher's old backyard, now up for sale.