Oscars, shmoscars. We had the awards competition to really make you think: the first annual Wrappies. Best of all, and you voted! Here are your choices:
BEST TV MOVIE
Extraordinary Measures
Invictus
It's Complicated
BEST DYING KID SCENE
Hurt Locker
My Sister's Keeper
Lovely Bones
BEST ALIEN LANGUAGE
District 9
Avatar
Star Trek
BEST SANDRA BULLOCK SEX SCENEThe Proposal
All About Steve
The Blind Side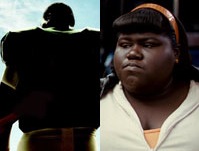 KEVIN SMITH AWARD
Tie:
Gabourey Sidibe, "Precious,"
Quentin Aaron, "The Blind Side"
Russell in "Up"