Writer Budd Schulberg, who won an Academy Award for "On the Waterfront," died on Wednesday at 95.
The son of B.P. Schulberg, head of Paramount Pictures, and Adeline Jafee-Schulberg, sister to agent/film producer Sam Jaffe, Schulberg was hardly a Hollywood insider. Aside from his 1954 Oscar, he's best known for his iconic anti-Hollywood novel, "What Makes Sammy Run."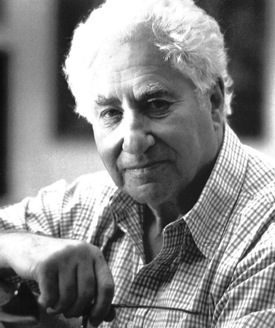 The book made him almost as unpopular in the industry town as his appearance in 1951 as a friendly witness in front of the House Un-American Activities Committee, naming names of other alleged Hollywood communists.
Famously, after penning "Sammy," Louis B. Mayer told B.P. Schulberg that his son should be deported. B.P. replied that since Budd was a U.S. citizen raised in Hollywood, "Where the hell are you gonna deport him? Catalina Island?"
Among his other works of fiction are "The Disenchanted," a 1950 bestseller about a young screenwriter who becomes disillusioned with a thinly disguised F. Scott Fitzgerald; "The Harder They Fall," later made into a movie starring Humphrey Bogart; "Sanctuary V"; and "Everything That Moves." He also wrote the screenplay for 195's "A Face in the Crowd," which starred Andy Griffith.
He also was a prolific boxing writer and was inducted into the International Boxing Hall of Fame as a writer in 2003, when he was 89 years old.
In the wake of the Los Angeles riots in the mid-60s, Schulberg helped found the Watts Writers Workshop. He also co-founded, in 1971, the Frederick Douglass Creative Arts Center in New York City.
Arthur Schlesinger Jr. said of his autobiography, "Moving Pictures: Memories of a Hollywood Prince": "As a book on the early days of the movies in Hollywood — their triumphs and fiascos, their scoundrels and heroes — his candid memoir is hard to beat. A fascinating and significant contribution to American social history."
He spent his last years in Long Island; he is survived by his wife Betsy and five children.