The fact that Italian filmmaker Paolo Sorrentino has set his latest film, "Youth," at a spa in the Swiss Alps is on one hand a treat, and on the other, a distraction. A kinetic sensualist whose last film, the elegantly stunning Oscar-winner "The Great Beauty," flirted with direct comparisons to Fellini's Eternal City adventures, Sorrentino knows his way around a gorgeous location.
But in crafting a quieter, sadder meditation on aging amidst so much snow-capped stillness, he winds up lulling us visually at the expense of a cohesive or enticing emotional journey.
See Video: Jane Fonda Camps It Up in First Full Trailer for 'Youth'
Our pillar of a protagonist is Fred Ballinger (Michael Caine), a lauded composer-conductor and hermit-like retiree; we're introduced to him as he's refusing a request from an emissary (Alex McQueen) for the Queen of England to conduct his signature piece at a special concert. Elsewhere on the grounds of his favorite vacation spot is longtime pal Mick Boyle (Harvey Keitel), an American movie director sweating out screenplay revisions on what he fears is his last big film. These two are tied not just by friendship, but also marriage: Fred's daughter Lena (Rachel Weisz), who's also his assistant, is married to Mick's son (Ed Stoppard).
Fred and Mick like to tease each other about conflicting memories, hash over lost pleasures, and muse about the passage of time. Surrounding them are the petty agonies of the young and successful, namely a movie star (Paul Dano) stricken by the fear of typecasting, a Miss Universe (Madalina Diana Ghenea) who wants to be an actress, and Mick's screenwriting acolytes holed up in his room. Eccentrics dot the background, too, including an obese South American ex-footballer (Roly Serrano) with a massive tattoo of Karl Marx on his back.
Also Read: Lily Tomlin's 'Grandma' Leads New Wave of Movies Defying Hollywood's Age Bias
But lying in store for these two old friends are bitter truths via the women in their lives, whether it's Lena's bottled-up feelings about her philandering father's treatment of his wife, or Mick's frequent leading lady Brenda (a garishly assembled, blonde-wigged Jane Fonda), who arrives in the third act for a coarse diva-versus-director smackdown that recalls the brittle, powerful performances that made Fonda a '70s powerhouse.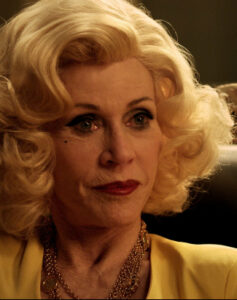 All this takes place at a coolly swank Alpine hideaway — once the sanatorium where Thomas Mann was inspired to write "The Magic Mountain" — that Sorrentino and cinematographer Luca Bigazzi film as a spotless and arid way station on the road to oblivion. This sparsity may be some winking statement about the vanishing mind, but more often than not it works against the general lightheartedness everywhere else, as we're meant to be drawn into the brains of a pair of fading satyrs, fairly buzzing with the trappings of decay and doubt.
Not that Caine and Keitel aren't the kind of actors whose faces tell stories, no matter what's going on around them. Keitel hasn't been this enjoyably wistful in years, and Caine is sort of his own mountain of acting prowess: by just being there and carefully doling out epigrammatic dialogue, he suggests the many vicissitudes of a long life.
Also Read: Diane Keaton Joins Jude Law in HBO Series 'The Young Pope'
But "Youth" and the visual sumptuousness of its bodies and scenery — including a levitating Buddhist monk, and Fellini-esque touches of youthful and aged nudity — all feels schematically metaphoric rather than organic. A few scenes merge image and idea with beautiful alacrity, though, such as when Caine's Fred appears able to conduct the movement and sound of nature itself, or the music-filled finale, which gives him a measure of ruminative grace. (David Lang's ethereally haunting compositions are among the film's high points.)
For many, even Sorrentino in low gear is the kind of art-house excursion worthy of a trip to the movies. (And the big screen is where he was born to play.) But if "The Great Beauty" was a heady, humming party you wanted to live inside, "Youth" — its melancholy and splendor too often at odds — never rises above feeling like a pretty, meandering gallery show.