If you thought the last "Star Trek" was a dazzling trip across the cosmos, Zachary Quinto promises that the upcoming sequel to the 2009 hit will be an even more epic experience.
"It was bigger," Quinto said at TheWrap's inaugural Short Film Festival on Tuesday night. "It was bolder, I think, than the first one, and that was pretty big and bold from my stand point."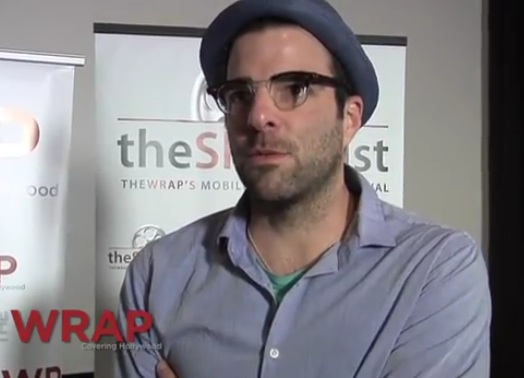 "I'm really excited to see what they do with it," he added.
Also read: Watch Video From TheWrap's ShortList Film Festival
The still untitled "Star Trek" sequel sees Quinto return to his role as pointy eared Mr. Spock opposite Chris Pine's brash Starship Enterprise captain, James T. Kirk. It flies into theaters on May 17, 2013.
The actor didn't reveal much in the way of plot details on the closely guarded project, but said that filming on his part is complete. He said the success or failure of the picture is now in the hands of director J.J. Abrams.
"I feel like, you know, my work is done on the movie right now and until we have to go and promote it, then my work remains done and I let J.J. and his incredible team of people get in there and do the work that they need to do now," Quinto said.
Also read: Somali Pirates Film Wins Top Prize at TheWrap's First Short Film Festival
Though his role as Spock helped raise Quinto's profile substantially, the actor downplayed the impact his performance will have on the finished product, noting that actors "really do just sort of stand where they tell us to stand."
"I feel very fulfilled, but I don't feel particularly attached to what the outcome of that project will be because I have faith in the people that I was collaborating with to make it as good as it can be," Quinto said.
Story continues after video
Far more fulfilling, Quinto said, are the projects he is producing such as last year's critically heralded indie "Margin Call."
"I'm just happy to be working on something else and be creatively fulfilled in other ways and be producing movies and be thinking about how I can, you know, get behind the camera in different ways and tell my own stories," Quinto said.
On Tuesday, the actor was lending a critical eye to that creative community as a member of the jury at TheWrap's Short Film Festival.
"Fishing Without Nets," a film about Somali pirates told from the pirates' perspective, won the Cinedigm Jury prize at the ShortList, earning its director a $60,000 award from Panavision toward camera equipment for a future filmmaking project.