Every year is make-or-break in television. But for some players, it's do or die.
AMC, for instance, faced a potentially disastrous 2015 with the departure of "Mad Men" and not much in the way of recent new original series primed to fill the void. But a freshman class of shows that delivered the three highest rated premieres in cable history and the continued success of "The Walking Dead" gave the cable network a year to brag about.
For several TV-industry players, 2016 holds the same potential to either fall flat or emerge triumphant.
Also Read: Jon Stewart Makes Triumphant Return to the 'Daily Show With Trevor Noah'
Trevor Noah
The 31-year-old recovered from a rocky introduction to the U.S. audience with a well-reviewed first outing as host of "The Daily Show" in September. But his take on the Comedy Central late-night franchise has since lost momentum. For the week of Dec. 7, "The Daily Show" is down 41 percent in Nielsen live-plus-same day ratings in the advertiser-coveted 18-49 demographic from the same week last year under previous host Jon Stewart, and it's down 42 percent in total viewers.
Comedy Central contends that Noah's mission is to draw young and multiplatform viewers, but his show has failed to generate the viral hits that fellow late-night newcomer James Corden's "Late Late Show" has. That could change if Noah starts generating headlines in the upcoming election year. But if he can't, he could be down for the count and become an object lesson in how not to replace a late-night legend.
Also Read: Why 'Star Wars' Hasn't Boosted Disney, Movie Theaters Stock
ESPN
How heavily has Disney been hit by concerns over subscriber losses at flagship cable network ESPN? So hard that not even "Star Wars" can fix the damage.
Disney stock closed Monday down 6 percent from where it was when "Star Wars: The Force Awakens" premiered Dec. 18, even as that film has broken every box office record on the books. Since Aug. 5, the day before Disney CEO Bob Iger conceded that his cable networks, including ESPN, had absorbed "some subscriber losses," Disney stock is down 12 percent. According to a November regulatory filing, ESPN has lost 7 million subscribers in the last two years.
If Disney can find ways to leverage ESPN's valuable sports rights to create new revenue streams — as it did in January when it made the network available on Dish's Sling TV streaming services — it may quell concerns over cord cutting. But if subscriber losses accelerate, so will problems for the Worldwide Leader in Sports and its parent.
Also Read: How YouTube Red Puts the Squeeze on Netflix
Susanne Daniels
Introduced in October, YouTube Red offers ad-free viewing of YouTube's vast library of cat videos. But the centerpiece of the offering is a slate of original, television-style series set to premiere in 2016 and starring talent such as PewDiePie and Lilly Singh, who have built their careers on YouTube.
That's a logical strategy, but not a risk-free one, and it remains to be seen whether viewers accustomed to watching their favorite talent for free will pay for the privilege. Susanne Daniels, recruited in July from MTV to serves as vice president of YouTube Originals, is tasked with growing that strategy. The initial, Youtuber-heavy slate was already in place when she arrived. But the shows she has been developing since will begin to see the light of day in 2016. If they are able to draw young paying customers, Daniels will have carved out a lucrative foothold for YouTube Red in its quest to challenge Netflix. But if viewers keep their credit card numbers to themselves, the service could go the way of Google Wave.
Also Read: Jennifer Lopez's 'Shades of Blue' to Replace 'The Player' on NBC
Ryan Seacrest
Ryan Seacrest's omnipresence on television is unparalleled, but his empire showed signs of disrepair in 2015. "Keeping Up With the Kardashian," the show that launched Seacrest's producing career, suffered a ratings drop-off, with total viewership for the Season 11 premiere down nearly 50 percent in Nielsen live-plus-same day numbers from the prior season's debut. "American Idol," the show that made him a famous host, was canceled by Fox — which also canceled his summer game show "Knock Knock Live" after only two episodes. The previous also year saw Seacrest's first scripted series as a producer, "Mixology," canceled by ABC after one 13-episode season.
Seacrest's next swing is a big one. Set to premiere Jan. 7 on NBC, "Shades of Blue" is the first scripted drama developed by Ryan Seacrest Productions to go to series. With Jennifer Lopez starring, the show will either be a high-profile hit or fantastic flop. Whichever it turns out to be, it will have a great impact Seacrest's continued viability as a producer, particularly on the scripted side.
Also Read: Lady Mary Called 'Nasty, Jealous, Scheming Bit-' in New 'Downton Abbey' Teaser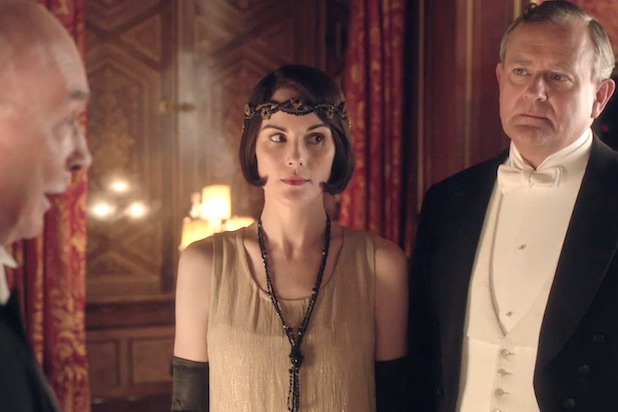 PBS
A new season of "Finding Your Roots," the genealogy show that was embroiled in scandal last year when it was discovered that actor Ben Affleck had pressured producers to suppress information about his family owning slaves, will debut on Jan. 5. Later this year, the new season of "Sesame Street" will debut on the public broadcaster — nine months after it premieres on HBO as part of deal that saw the channel lose exclusivity to the legendary children's show.
But January looms largest for PBS. On Sunday, Jan. 3, the final season of "Downton Abbey" makes its U.S. premiere. The series was by far the most watched in PBS history and has been credited with bringing in new viewers and new underwriters. The British period drama's departure leaves a massive void. Taking a page from commercial broadcasters' playbooks, PBS will use "Downton" as a lead-in for the Jan. 17 premiere of "Mercy Street," a Civil War period drama series and the first U.S. made original drama on PBS in more than a decade.
If "Mercy Street" can capture "Downton" viewers and hold them, PBS will have a franchise that could bring outsize audiences to public television through the end of the decade. If it doesn't, 2016 will have been most notable for what PBS lost.