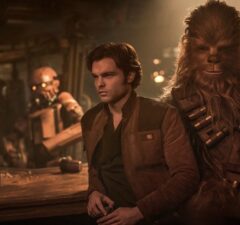 FEATURED VIDEO (SPONSORED)
"James push!" magician tells "Late Late Show" host

"Amy's the boss of the show, so she can speak for everybody," Nick Offerman adds

The president made the remarks in an interview with "Fox & Friends" Thursday morning

"Ten hours is what it deserved. If it had been done in two it probably would've missed a lot of the magic," "The Alienist" star Evans told TheWrap

"Atypical" star says new rule was put in place "not because people are protesting, it's because what they are protesting"
Let's do some casting inspired by Stephen King's classic horror novel

Not everyone came out alive on "Scandal," "Barry," and "Lucifer," and "Roseanne" closed out with a presidential tweet

The Pulitzer winning author died Tuesday at age 85

TheWrap presents photos of stars from "This Is Us," "World of Dance" and more at the Peacock's summer promo event

Enter the bankers and the models
Clare Barron's quirky new play treats young girls like women and the boy among them like a prop

Marin Ireland and Nathan Darrow sizzle, but some crude plot mechanics keep this rarity from entering the Williams pantheon of great plays

Famous writer of "Mean Girls" may even bump Best Book of a Musical category to rare primetime berth

Nathan Lane leads the competitive race Best Featured Actor race, but in other categories it's sometimes enough just to have opened on Broadway this season

His Hickey is a fired-up evangelist set loose among an expressionistic freak show in George C. Wolfe's revelatory staging of the O'Neill classic