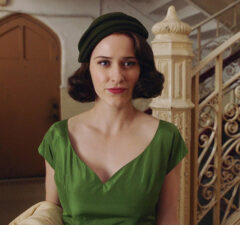 It's (practically) indescribable, which makes this a very meta sub-headline

And snorting some form of purple ecstasy with a Twizzler

"Roseanne is back and better than ever... at being racist," says Amber Ruffin.

Actors eventually scrap "The Good, The Bad, and The Ugly" remake for "Three Men and a Baby" -- guess who the baby is?

James Corden finally pukes on his own "Spill Your Guts or Fill Your Guts"
Series finale 20th anniversary: No matter how famous, no secretary lasted long on the original CBS sitcom

A total of 93.5 million Americans tuned in for the 98-minute special

These Shondaland character exits left us in tears

Sorry, there are no reboots on this list

Decades of big screen Marvel adaptations demand a long, ranked list. This is that list
Clare Barron's quirky new play treats young girls like women and the boy among them like a prop

Marin Ireland and Nathan Darrow sizzle, but some crude plot mechanics keep this rarity from entering the Williams pantheon of great plays

Famous writer of "Mean Girls" may even bump Best Book of a Musical category to rare primetime berth

Nathan Lane leads the competitive race Best Featured Actor race, but in other categories it's sometimes enough just to have opened on Broadway this season

His Hickey is a fired-up evangelist set loose among an expressionistic freak show in George C. Wolfe's revelatory staging of the O'Neill classic