Wes Craven is gone, but he leaves behind a long legacy that horror fans will never forget– and will be watching for decades to come.
The filmmaker, who died on Sunday after a struggle with brain cancer, began scaring audiences in 1972 with the release of his directorial debut, "The Last House on the Left." He eventually racked up an additional 28 directing credits, concluding with "Scream 4," a well-received installment of the popular franchise he created in 1996 with screenwriter Kevin Williamson.
Have you seen the best Craven had to offer over the course of his astonishing four-decade career behind the camera? In honor of the Hollywood horror maestro, here are seven movies you need to see — if you can stomach them.
Also Read: MTV Renews 'Scream' for Season 2
"The Last House on the Left" (1972)
Forget about the 2009 remake starring Aaron Paul (before he broke out as Jesse Pinkman on "Breaking Bad"), and rent a copy of Craven's first film, which he wrote, edited and directed on a shoestring budget. The violent tale about a gang of crooks who rape and murder two girls is one of the most satisfying revenge films ever produced, when a pair of angry parents turn the tables on their daughter's killers.
"The Hills Have Eyes" (1977)
If "Jaws" made you afraid of the water, this gruesome flick will make you nervous to embark on a cross-country road trip to or from California. The cult classic, which received a respectable remake by Alexandre Aja ("High Tension")  in 2006, follows a family that breaks down in the middle of the Nevada desert on its way to Los Angeles. As you can imagine, things go awry, owing to a family of cannibals lurking nearby.
"Swamp Thing" (1982)



Craven is best known for his work in the horror genre, but he was among the first directors to bring a DC Comics superhero to the big screen when he adapted this humanoid plant. The campy action movie (that totally deserves a remake) follows a scientist who accidentally turns himself into a monster that lurks in the swampy waters of a Louisiana bayou. There, he protects a female scientist from a villain trying to steal the chemical responsible for creating the heroic freak of nature.
"A Nightmare on Elm Street" (1984)
This is the movie that launched one of cinema's most iconic slashers, Freddy Krueger — a supernatural killer who is as terrifying as he is amusing to watch while he taunts kids in their dreams before eventually disposing of them in creative fashion. The scariest thing about the concept — which has spawned a number of sequels, including a crossover with the "Friday the 13th" franchise — was not Freddy's sharp claws or scorched skin, it was the killer's ability to strike during our most peaceful moment: sleep. You can run from Michael Myers or Jason Vorhees, but there's no escaping this movie mad man.
Also Read: New Line Dreams Up New 'Nightmare on Elm Street' Movie With 'Orphan' Writer
"The People Under the Stairs" (1991)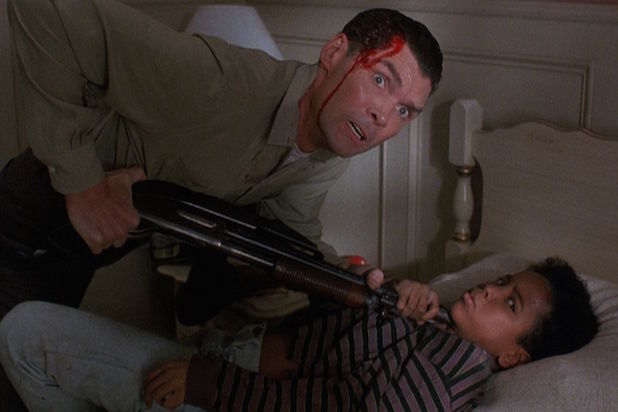 The black audience has always been underserved by the horror genre and Hollywood in general, which is just one of the reasons this campy classic deserves to be seen. The film follows a poor African-American boy roped into a robbery by a neighborhood thug, who is quickly punished for his criminal actions, leaving the young teenager to survive in a house of horrors on his own. Although not particularly scary, the humorous coming-of-age tale in an urban setting, paired with creepy creatures under the stairs and a set of deranged antagonists, should be on the watch list of any horror fan.
Also Read: Courteney Cox, David Arquette Join Stars Paying Tribute to Wes Craven
"A New Nightmare" (1994)
After Craven handed over the director's chair to other filmmakers for five lackluster sequels to his terrifying brainchild, he returned to steer the franchise in a completely new direction. The reboot poked fun at the movies that preceded it by acknowledging that "A Nightmare on Elm Street" was just a Hollywood production — but that doesn't mean Freddy's not real. The ghoul surprises Heather Langenkamp, the actress who played original protagonist Nancy Thompson, by killing her husband and then coming after both her and her young son. It's remarkable for both its meta approach to a sequel and for making Freddy more menacing than audiences had previously seen. It's currently streaming on Netflix, so there's no excuse not to turn off the lights and show Craven some love.
Also Read: Wes Craven to Be Honored During MTV's 'Scream' Finale Tuesday
"Scream" (1996)
This is the movie that spawned three sequels and an MTV series recently renewed for a second season. Beloved for its satirical spin on the slasher genre, "Scream" follows a teenager targeted by a masked murderer for reasons unknown until the very end of a very funny and thrilling ride that pokes fun at horror cliches. It's probably safe to assume we all know who is behind the original Ghostface by now, but let's not spoil it for the new generation of viewers who might not have discovered this gem yet.