Embracing our fallibility may be the only way to turn the tide on the coming wave of robotic content authoring
Just over a week ago, I attended an AI-focused entertainment industry event hosted by the nonprofit AI LA. It was the first formal event of its nature I'd gone to, so I had no idea what to expect when I arrived: I guessed 10, 20, maybe 50 people might show.
Turns out it was a standing-room-only, mostly hipster crowd closer to 300, including 16 AI artists, buzzing with a combination of nervous energy and excitement as they sipped their martinis and contemplated what AI ultimately means for them and their careers in the entertainment business. Keep in mind that it's only been two months since ChatGPT set the media and entertainment world on fire, so the crowd was, to me, an indicator of the topic's enduring buzz.
Become a member to read more.
The event featured a panel of creators (filmmaker Paul Trillo, musician Taryn Southern) and tech influencers (AI engineer Faith Aya Umoh, metaverse creator and influencer Don Allen Stevenson III), all of whom were virtually shouting into their mics to rise above the crowd noise. At one point, one of the main stage spotlights nearly flipped over in what seemed to me an eerie warning of dystopian forces ahead. The panel's discussion focused on the heart of it all — whether AI devalues human creativity by flooding the world with endless iterations of machine-made "creative" works, and whether significant numbers of jobs in the entertainment industry and creative community will be lost because of it.
The response from all panelists was a sobering yet at times optimistic "yes" and "no." Yes: A wide swath of everyday artists and creators are likely to suffer devaluation of their creative works. Think of copywriters, graphic and visual effects artists, music composers, marketing executives — the list goes on and on. Many who have needed and employed humans in the past for marketing, advertising, entertainment will now find it sufficient to turn to the artificial. AI in the long run drives marginal costs down to $0. So, yes, many in our industry will lose their jobs. Think of what robotics did to the world of manufacturing. That's what AI will do to the creative arts.
On the "glass is half full" side, massive tech transformations in the past have also previously upended the world of creatives, yet that technological tumult also created entirely new categories of rewarding jobs. Digital animation replaced many traditional animation artist jobs to create groundbreaking new works and entirely new creative ecosystems: Think Pixar and its imitators.
Seen in a positive light, AI promises to open a whole new world of creativity that was previously inaccessible. We all are creative beings in some shape or form. But many — if not most — of us don't know where to even begin to translate our ideas into art. AI can be that great unlock, democratizing creativity in entirely new ways and expanding the boundaries of our imagination. If you're a budding wordsmith, for example, AI can help to make writer's block a thing of the past and enable you to translate more of your thoughts into words on the page. If you can develop compelling visual ideas in your mind but believe you don't have the talent to fully realize them, AI can empower you to create visual works of beauty. Eventually, a sufficiently powerful AI could use a film treatment as a prompt to build a full-length motion picture.
But there's something more, something even deeper — and it's something that AI will never fully understand because it simply is not programmed that way. Human creativity will never be completely overtaken by AI precisely because of its flaws. Its mistakes. Those "incorrect" elements that give human works their soul, the connection to us all who are flawed and fallible.
This was a theme voiced most by Stevenson, an animator and AR/VR consultant turned philosopher of sorts, at the AI LA event — but echoed by others there as well. He urged the crowd to remain keenly aware of the threats AI poses to creativity and to continue to encourage, celebrate and actively support human creativity.
Yes, machines make mistakes too (we have all amused ourselves with ChatGPT musings that miss the mark). But machines are trained to seek absolute perfection. That's their ultimate goal. With human creativity, perfection is not necessarily the end. In fact, it may be anathema to the end goal.
Something wonderful happened in the days following the event — something almost metaphysical and downright divine. I heard that same message repeated over and over again in a way that seemed almost as if the universe were trying to reassure me. First, I listened to an outstanding podcast with best-selling author Malcolm Gladwell interviewing famed music producer Rick Rubin about Rubin's great new book "The Creative Act: A Way of Being." And Rubin's punchline is that a creative work isn't finished when it has five mistakes. It's finished when it has eight. In other words, the creative act's lack of perfection is precisely what makes it resonate so perfectly.
One day later, I was inspired to watch the award-winning 2017 documentary "AlphaGO" which chronicles the Google DeepMind AI's defeat of serial world champion Go player Lee Sodol in a then-shocking four out of five matches. The film's lasting message is not one of despair for a future devoid of humanity. Rather, it's a celebration of the fact that Sodol's single win resulted from a seemingly illogical — but entirely human — move considered to be a mistake by the machine-trained AI. He succeeded because of an error, not in spite of it.
So yes, we have reached an inflection point that is both exciting and terrifying. But perhaps we can take solace in the fact that human creativity — the ingredients of which can never be entirely known or understood — cannot be precisely replicated for that very reason. We are not preprogrammed algorithms.
We are instead human beings. And only we can fully and completely communicate in ways that touch each other's fallible souls, ultimately connecting in ways that frequently cannot be explained. That's the power of great music. That's the power of great art. That's the power of great mistakes. Ones that break through the fixed codes of human progress and past creative touchstones to make something not just novel, but entirely new.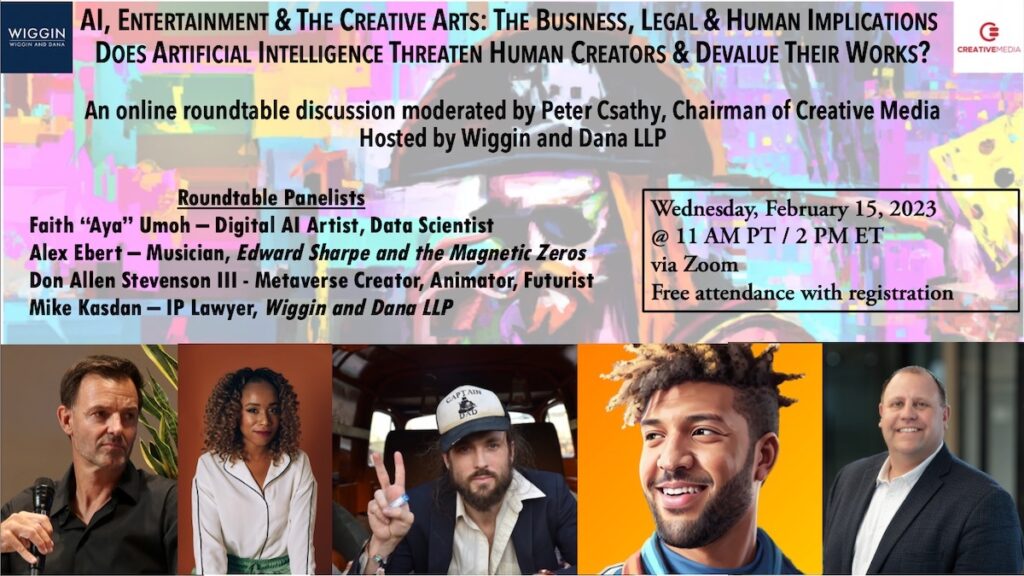 Please join me to discuss all of these AI-related issues — and their impact on the entertainment industry and the creative arts in general — at a free upcoming virtual roundtable discussion I will host on Feb. 15 at 11 a.m. PT/2 p.m. ET. Register here via this link. Along with Stevenson, I will be joined by Grammy- and Golden Globe-winning artist and musician Alex Ebert, frontman of the band Edward Sharpe & The Magnetic Zeros; and attorney Michael Kasdan of Wiggin and Dana.
For those of you interested in learning more, visit Peter's media, entertainment and tech legal services and business advisory firm Creative Media at creativemedia.biz and follow him on Twitter: @pcsathy.