"Daddy's Home," the low-brow comedy, and the raunchy "Sisters" both connected at the holiday box office this weekend.
"Daddy's Home" laughed its way to a stunning $38 million in its opening weekend, with rough-edged pop Mark Wahlberg and strait-laced stepdad Will Ferrell fighting for the family's affection. That's about $15 million over projections and makes up most of the $50 million budget of the film from Red Granite and Paramount.
"Sisters," starring Tina Fey and Amy Poehler as siblings hosting a house party, brought in nearly $14 million for fourth place in its second weekend for Universal. That's almost the same amount it earned last weekend, and it may go higher when Monday's final numbers arrive. That's particularly impressive given the presence of "Star Wars: The Force Awakens" in the market.
Also Read: 'Star Wars' Blazes to Record $153 Million 2nd Weekend at Box Office
It's not just Yule or Chewbacca backlash, of course. Shoppers who've circled mall parking lots for extended periods or stood in line to exchange that wrong-sized sweater showed they were ready for some laughs. And so many of the movies in the market are smart, serious Oscar hopefuls, that a couple of hours of dumb fun hit the spot.
"Everyone needs an antidote to the holiday cheer and sweetness of the season and what better way to channel your inner Grinch than to check out a raunchy, edgy comedy?" Paul Dergarabedian, Rentrak's senior analyst, told TheWrap.
Also Read: 'Sisters' Review: Tina Fey and Amy Poehler Throw One Last Bash in Heartfelt Farce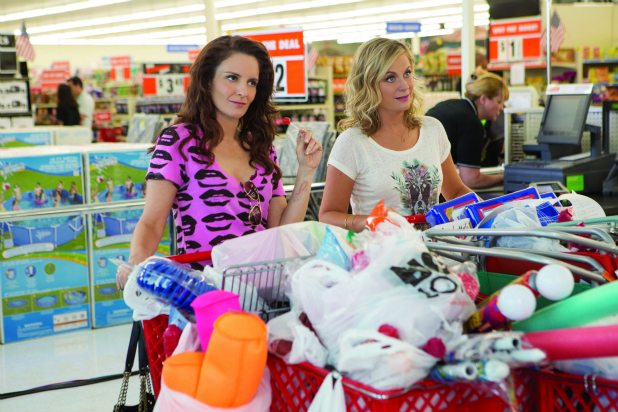 "Both 'Sisters' and 'Daddy's Home' are perfectly timed to take advantage of a period when audiences may enjoy the catharsis of a good laugh with other moviegoers looking for something other than Oscar fare and light sabers," he said.
Universal and Paramount knew what they were doing when they set their films to open in the holiday corridor, "Star Wars" notwithstanding.
"That's really the whole idea," Universal distribution chief Nicholas Carpou told TheWrap before the opening, "to provide the alternative for people who aren't going to the blockbusters. And I think we can all relate to that time in the holiday season, when things get to be a little much."
It's likely both "Sisters" and "Daddy's Home" drew some moviegoers who couldn't get into Disney's mega-hit and chose an alternative in the lobby, too.
Megan Colligan, president of worldwide marketing and distribution at Paramount, told TheWrap that the broadness of PG-13-rated "Daddy's Home" surprised even her team.
Also Read: 'Daddy's Home' But Not Welcome: Read the 7 Worst Reviews of Will Ferrell-Mark Wahlberg Comedy
"We drew seven-year-olds and 70-year-olds," she said. "We were underestimating our daily grosses because it would play like a family film in the daytime, but then it played late into the night, too."
Movies like 2004's R-rated "Meet the Fockers" and its 2010 sequel opened just before Christmas and tapped into that same "had-it-with-the-holidays" mindset, as did Universal's "This Is 40" in 2012, and "Anchorman 2," which scored for Paramount in 2013.
If you're wondering where is "Bad Santa," arguably the quintessential counter-Yule movie, it opened at Thanksgiving in 2002.
Colligan said "Daddy's Home," which was directed by Sean Anders and co-stars Linda Cardellini, has a plot twist that separates it from that pack, however.
"All the marketing and advertising on this movie stresses the battle between the two dads, but the ending is super sweet, warm and leaves everybody leaving the theater feeling amazing," she said.
Tapping into  holiday spirit backlash, and then delivering a surprise dose of cheery spirit to your audience, is one way to open a movie to $38 million.