The first trailer for "Fast and Furious 9" AKA "F9" has finally dropped, and we'll cut right to the only thing that really matters: HAN IS BACK FROM THE DEAD.
How is he back? We don't know! Does it make sense? We have no idea! What we do know is that it is, objectively speaking, awesome news.
For those of you scratching your head about all this, Han Leu (played by Sung Kang) was apparently killed at the end of 2006's "Fast and Furious: Tokyo Drift," the third film to be released in the "Fast and Furious" saga, when he crashed into another car during a high speed chase and his vehicle exploded. The character was so popular however that he was brought back for "Fast and Furious" 4, 5 and 6, all of which take place before "Tokyo Drift," and fans got to spend more time with Han and see how he fit into Dominic Toretto's #Family.
Then in the stinger for "Fast 6," we learned that Han's death in "Tokyo Drift" was (as far as anyone knew) actually a revenge killing by international criminal Deckard Shaw (Jason Statham). Deckard subsequently spent "Fast and Furious 7" trying to take out the other members of the #Family," until he was finally apprehended and placed in a supermax prison. But then, in a move that sharply divided fans, Shaw was recruited into the #Family for "F8 of the Furious."
Before "F8" came out, people opposed to turning Han's murderer into a good guy coalesced around the social media effort #JusticeForHan. And it looks like their calls have been answered because the new trailer specifically promises "Justice." Hell yeah.
Also Read: 'F9:' Vin Diesel Teaches His Son in First Footage for Ninth 'Fast & Furious' Movie (Video)
Of course it does kind of matter how he survived. But we'll assume that director Justin Lin, who created the character and directed Kang in all his previous "Fast and Furious" appearances, will explain it when the movie comes out. Meanwhile, enjoy this slick character poster: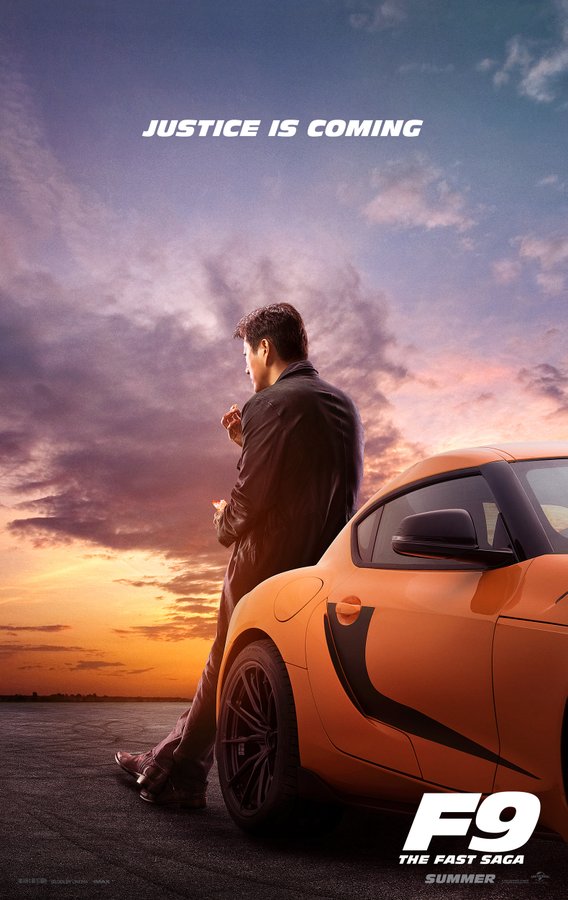 The trailer opens with Vin Diesel's character Dom hanging out with his son. His mom, played by Michelle Rodriguez, gives him a necklace that clearly has sentimental value to Dom.
Later in the trailer, history catches up with Dom — someone he's had problems with in his past shows up unexpectedly. That person, who the gang describes as an assassin and performance driver, is played by none other than John Cena. Then, we find out it's Dom's brother.
And… Charlize Theron is back also.
Justin Lin returns to the franchise he turned into a billion-dollar behemoth after skipping the 7th and 8th installments. Also returning are Lucas Black, Jordana Brewster Helen Mirren and Tyrese Gibson. Along with Cena, Michael Rooker also joined the cast.
Watch the trailer above.