Fox has given a series order to Seth MacFarlane's live-action comedy "Dads," plus a cop comedy starring Andy Samberg and Andre Braugher, along with three other comedies.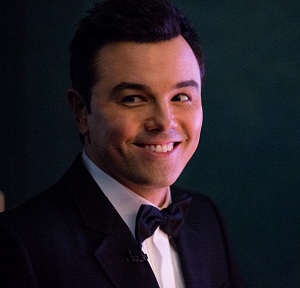 "Dads," which is executive produced by "Family Guy" honcho Seth MacFarlane, stars Seth Green and Giovanni Ribisi as two childhood best friends who grow up to be successful men, but find their lives turned upside-down when their fathers (Martin Mull and Peter Riegert) move in with them. Alec Sulkin and Wellesley Wild, who worked with MacFarlane on the big-screen hit "Ted," are writing as well as executive producing. Marc Cendrowski ("The Big Bang Theory") directed the pilot.
Also read: Fox Orders 4 Dramas: J.J. Abrams' 'Almost Human,' Greg Kinnear's 'Rake,' and 2 More
"Brooklyn Nine-Nine" comes from "Parks and Recreation" team Dan Goor and Michael Schur. Andy Samberg and Andre Braugher star in the single-camera ensemble comedy that pairs a detective who takes nothing seriously with a by-the-book boss. Goor and Schur created and are executive producing. David Miner of "30 Rock" is also executive producing, with "21 Jump Street" team Phil Lord and Chris Miller directing the pilot.
"The Finder" actor Geoff Stults stars in "Enlisted," described as "an irreverent and heartfelt military-set single-camera family comedy." The series, written and created by "Cougar Town" and "Scrubs" alum Kevin Biegel, follows three brothers getting to know each other again on a small Florida Army base and the group of misfits who surround them. Biegel is executive producing with Mike Royce ("Men of a Certain Age," "Everybody Loves Raymond"). Phil Traill ("Suburgatory") directed the pilot.
"Surviving Jack" (working title) is based on the Justin Halpern book "I Suck at Girls," and stars "Law & Order: SVU" alum Christopher Meloni as "a man becoming a dad, as his son is becoming a man, in a time before "coming of age" was something you could Google." Set in 1990s Southern California, the series is created by Halpern and his "S#*! My Dad Says" partner Patrick Schumacker. Bill Lawrence and Jeff Ingold are also executive producing. Victor Nelli ("Scrubs") directed the pilot.
Also read: Fox Pilots 2013
Finally, "Us & Them" (a working title), an adaptation of the BBC 3 series "Gavin and Stacey," stars Jason Ritter and Alexis Bledel as a young couple who find their path to happily-ever-after complicated by the screwed-up circus of people closest to them. David J. Rosen ("I Just Want My Pants Back") wrote the project, and is executive producing, along with Jane Tranter, Julie Gardner, and "Gavin and Stacey" creators James Corden and Ruth Jones.