George Clooney took his pro-Obama act overseas on Monday to drum up large amounts of cash for the president's re-election at a special event for American expats in Geneva, Switzerland.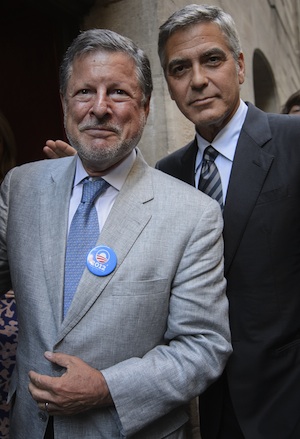 The politically active actor showed up at the home of American lawyer Charles C. Adams Jr., (pictured, left, with the star) Clooney's co-star for the evening, for the destination fund-raiser sponsored by Americans Abroad for Obama. President Obama's campaign finance chairman, Matthew Barzun, also shared hosting duties at the lakeside event, which organizers said had raised at least $625,000, the Associated Press reported.
"I'm very proud to be here and to be supporting the next President of the United States," Clooney told guests at the reception, according to Reuters.
"He deserves another four years to finish what he started," he said.
As with other celebrity-centric campaign events this election season, guests had the option of buying into the festivities based on a sliding scale. In this case, donors paid $1,000 to mingle at a pre-dinner reception, $5,000 for a photo-op with Clooney, and $15,000 to dine with the actor on cuisine cooked up by local eatery Le Lion d'Or.
Also read: President Obama Praises 'Wonderful Guy' George Clooney's Politics
Thirty guests threw in $15K for the full Clooney experience with dinner, and 100 went with the least expensive option on the menu to join the reception.
Clooney, who has said he chooses carefully how he contributes to Obama's re-election effort, didn't have far to go to get to Geneva, as he had been summering at his own lakeside manse in Lake Como, Italy.
On May 10, the actor opened his home in Studio City, Calif. to President Obama and a group of generous boosters for a successful fundraising event that raised $15 million.