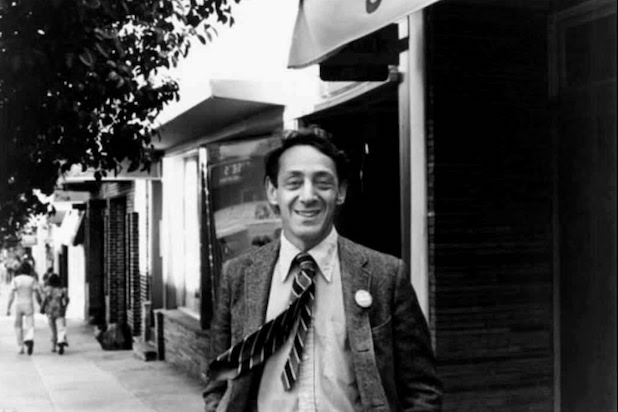 Just five years after the U.S. military repealed its controversial "Don't Ask Don't Tell" policy barring gay men and women from openly serving, the Navy is naming a ship after Harvey Milk, the gay rights icon who was assassinated in 1978.
Navy Secretary Ray Mabus has signed plans to name a Military Sealift Command fleet oiler "USNS Harvey Milk," TheWrap has learned, a move that's being hailed as a milestone by Milk's friends and family.
"The Navy naming a ship after him means they celebrate and embrace LGBT people, instead of just tolerating them," Milk's nephew Stuart Milk, who runs the Harvey Milk Foundation, told TheWrap. "It's a much higher bar."
Also Read: Frank Robinson, Harvey Milk Speechwriter and Sci-Fi Author, Dead at 86
Milk's friend and longtime gay activist, Cleve Jones, told TheWrap the news would have tickled Milk, whom he described as having a "pretty juvenile sense of humor."
"If there's a heaven, Harvey is laughing," Jones said. "He's probably up there cracking jokes about oiling sailors."
In January, Mabus named a ship after civil rights leader and Georgia Congressman John Lewis and promised six more "fleet replenishment oilers," which bring fuel and supplies to other Navy ships at sea, will be named after "people who have fought for civil rights and human rights in this country."
The Harvey Milk ship is expected to be the second in that fleet.
Also Read: Critics Hate Sean Penn's 'The Last Face': Here Are 7 of the Worst Reviews, So Far
Other ships will be named after evangelist and rights activist Sojourner Truth, the late Supreme Court justice Earl Warren, Robert F. Kennedy and women's rights activist Lucy Stone.
Milk was the first openly gay elected official when he became a member of San Francisco's Board of Supervisors in 1977. His murder by colleague Dan White in 1978 set off the now infamous White Night Riots in San Francisco, after White received a lenient sentence.
Since then Milk has been the subject of everything from books to movies and even an opera. He was played by Sean Penn in the Oscar winning 2008 film "Milk," a performance that earned him an Oscar for best actor.
Jones, who was portrayed by actor Emile Hirsch in the movie, says that even though Milk's "political consciousness was framed by his opposition to the war in Vietnam," the move by the Navy is a positive one.
Also Read: Why Saying the Words 'Gay' or 'Guns' Matters in the Post-Orlando Debate
"It's extraordinary," Jones said. "We went from a total ban on gay people in the military to an era when same-sex marines are getting married in chapels on base."
Milk joined the Navy in 1951 and was stationed in San Diego as a diving instructor, achieving the rank of lieutenant junior grade before leaving in 1955.
"This ship will be entering ports of call where it's still illegal to be LGBT," Stuart Milk, who was instrumental in the campaign to have a ship named for his uncle, said. "It will be bring hope and light wherever it goes."
Watch a clip of Sean Penn and Emile Hirsch, as Harvey Milk and Cleve Jones, respectively, from the movie "Milk" below.