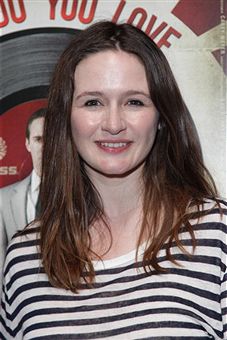 Emily Mortimer and Michael Stuhlbarg are taking a cue from Leonardo DiCaprio and working with Oscar-winning filmmaker Martin Scorsese again.
The "Shutter Island" patient and "Boardwalk Empire" star will re-team with the iconic director on "Hugo Cabret," the actors' representation at ICM has confirmed to TheWrap.
The story follows a young boy who lives a secret life in the walls of a Paris train station, where he gets caught up in a magical, mysterious adventure that threatens to put all of his secrets in jeopardy.
Adapted by John Logan from Brian Selznick's 2007 best-seller "The Invention of Hugo Cabret," the live-action 3D adventure stars Oscar winner Ben Kingsley, Golden Globe winner Sacha Baron Cohen, two-time Oscar nominee Jude Law, "Kick-Ass" crime fighter Chloe Moretz and Asa Butterfield ("The Boy in the Striped Pajamas") as the titular orphan.
Mortimer will play Lisette, the train station's flower shop girl, while Stuhlbarg will play Rene Tabard, a film restorer.
Both Mortmer and Stuhlbarg are fantastic character actors who should fit in nicely with the rest of the impressive ensemble, which also includes Ray Winstone, Christopher Lee, Helen McCrory, Frances de la Tour and Richard Griffiths.
Scorsese produces with Graham King, Johnny Depp and Tim Headington. Emma Tillinger Koskoff will exec produce with Charles Newirth and Christi Dembrowski.
Sony Pictures is scheduled to release "Hugo Cabret" on December 9, 2011.
Mortimer recently starred in the Michael Caine thriller "Harry Brown." She will next be seen opposite Paul Rudd in the comedy "My Idiot Brother."
Stuhlbarg recently earned a Golden Globe nomination for his breakout performance in the Coen brothers' "A Serious Man." The stage actor's profile will soon be raised with his portrayal of crime boss Arnold Rothstein in HBO's upcoming series "Boardwalk Empire," which boasts a pilot directed by Scorsese.
Mortimer is represented by ICM, Independent Talent Artists and Brillstein Entertainment Partners.
Stuhlbarg is also represented by ICM along with Viking Entertainment.