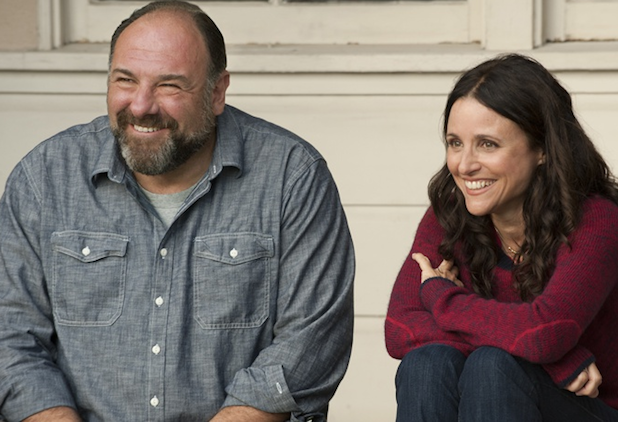 "Enough Said," one of the late actor James Gandolfini's final movies, did very well in its second week expansion at the specialty box office this weekend.
The dramatic comedy, written and directed by Nicole Holofcener and co-starring Julia Louis-Dreyfus, brought in $2.1 million after Fox Searchlight expanded it from four theaters to 227 locations. That's an impressive $9,317 per-screen average – the best of any film in release for the second week in a row – and ups the film's domestic total after 13 days to $2.5 million.
Also read: The Joseph Gordon-Levitt Bromance Strategy: Why 'Don Jon' Was More Than a Box Office Play
"Enough Said" has drawn rave reviews from critics, earning a 93 percent on Rotten Tomatoes.
"It is a very well written film which appeals primarily to the under-served adult audience," said Fox Searchlight's distribution chief Frank Rodriguez Sunday. "However we are beginning to see a wider and somewhat younger demo of moviegoers becoming fans of the film. This is evidenced by the strong showing in suburban theatres and upscale multiplexes nationwide."
Also said: 'Metallica Through the Never' – and Munchkins – Drive Big Box-Office for Imax
"Enough Said" nearly cracked the national top ten, finishing 11th just behind "Lee Daniels' The Butler." The plan for next weekend is to expand into 400-450 theaters.
The Weinstein Company's Radius label rolled "Inequality for All," a documentary that follows former U.S. Labor Secretary Robert Reich as he looks to raise awareness of the country's widening economic gap, on 28 screens. It took in $140,000, or $5,000 per screen.
"It's been a difficult marketplace for the issue-driven doc over the last three years,' said Radius co-presidents Tom Quinn and Jason Janego, "so it was definitely a gamble to open this wide, but tremendous reviews and a defining film tackling the issue of our time – – income inequality — has delivered one of the biggest doc openings in years."
Entertainment One opened the horror thriller "We Are What We Are" in single theaters in New York and Los Angeles and the two locations brought in $15,081, or $7,540 at each.