U.S.-born Muslim scientist Sidd Bikkannavar says he was detained under President Trump's travel ban and forced by border agents to unlock his NASA-issued phone.
Bikkannavar is employed by NASA's Jet Propulsion Laboratory (JPL) but spent a few weeks away pursuing his hobby of racing solar-powered cars. As a member of a Chilean team, he journeyed to Patagonia in early January under the Obama administration. He returned after Donald Trump took office and issued a sweeping executive order on travel into the United States.
When Bikkannavar arrived at the Houston, Texas airport from Santiago, Chile, he says U.S. Customs and Border Patrol agents pressured him to turn over his phone and give them his PIN to unlock it. Because the phone was NASA-issued, he worried that it contained sensitive material that was supposed to remain confidential.
Also Read: Appeals Court Upholds Suspension of Donald Trump's Travel Ban (Updated)
Nothing about Bikkannavar should have caused concern for CBP — he's a natural–born U.S. citizen, enrolled in a program that allows individuals who've already passed background checks to quickly enter the country. In addition, he has never visited the countries on the immigration ban, and he's 10-year employee of a major U.S. federal agency.
"I don't know what to think about this," Bikkannavar told The Verge in a phone call. "I was caught a little off guard by the whole thing."
Bikkannavar detailed his experience on Facebook, explaining his absence to friends and coworkers.
Also Read: Obama Breaks Silence to Back Travel Ban Protesters: 'American Values Are at Stake'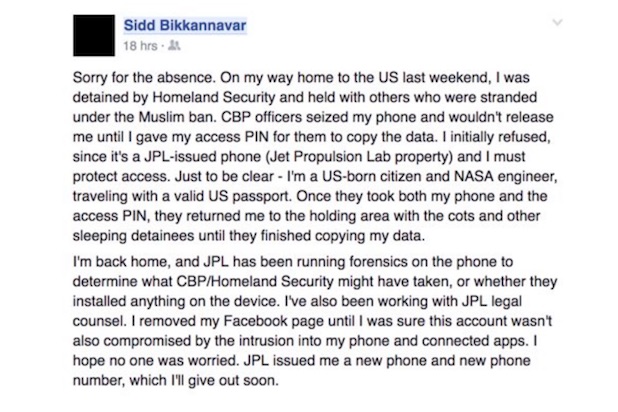 The Council on American-Islamic Relations (CAIR) filed numerous complaints in January against CBP for demanding that Muslim American citizens give up their social media information when they return home from overseas.
Earlier this week, Homeland Security Secretary John Kelly issued a statement in response, telling the House Homeland Security Committee, "We want to get on their social media, with passwords: What do you do, what do you say? … If they don't want to cooperate then you don't come in."