Trump's dreams of building a wall didn't stop NFL fans from flooding to Mexico City this weekend, as the New England Patriots took on the Oakland Raiders at Estadio Azteca Stadium.
It was the first trip south of the border for Tom Brady and co., while the Raiders — who treated it as a home game — were down there last year against the Houston Texans.
While most viewers watched from home or in sports bars via CBS, TheWrap ventured down to Mexico City for the historic game.
Also Read: Tom Brady Calls Trump's NFL Player Protest Remarks 'Divisive' (Audio)
Here are nueve (nine) things you didn't see on TV.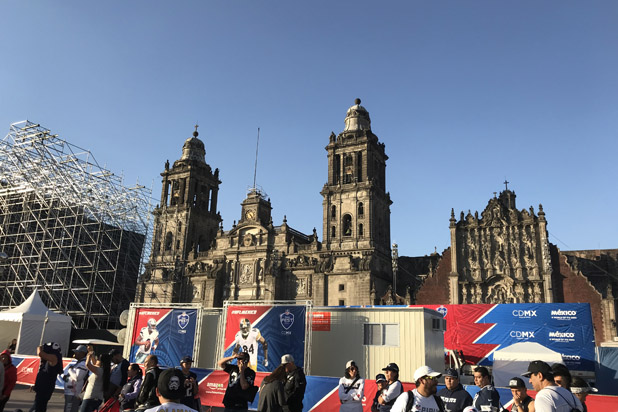 1. The fans are manic in Mexico, and we mean that in the best possible way! The weekend's festivities kicked off at the NFL Fan Fest in Zocalo Square. Supporters of all teams across the league posed with giant helmets, running a 50-yard dash, or checking out the Lombardi Trophy.
2. "Black-ish" actor Anthony Anderson was among those who made the trip from California to cheer on the Raiders. He was spotted at the Intercontinental Hotel the night before the game posing for photos with fans.
Also Read: Why Gotham Chopra, Tom Brady and Michael Strahan Call Their Show 'Religion of Sports'
3. The Mexican Wave is a real thing — and it is so much more exuberant when done in Mexico by genuine Mexicans.
This picture of Tom Brady from the Patriots-Raiders game looks like he's entering a cage match. pic.twitter.com/RP4Ddo88Rt

— NFL MEMES (@NFLMemes4You) November 19, 2017
4. These fans know their stuff when it comes to the NFL. There was no confused looks during complicated plays or lengthy drives, and they were nearly all decked out in jersey, hats and insane regalia — even the little kids. Oh yeah, we also saw Darth Vader — turns out he's a Raiders fan.
5. The game was 100 percent and international experience — with the national anthems of both countries being sung before the game, as the U.S. and Mexican flags were laid on the field and fireworks exploded above.
Dola Dola Bills.@DannyAmendola comes up clutch on 3rd-and-goal. #PatriotsEnMexico pic.twitter.com/LPC5X2Zg5B

— New England Patriots (@Patriots) November 19, 2017
6. At 7,380 feet above sea level, Azteca Stadium is 2,100 feet higher than Denver's Mile High Stadium, which is why the Patriots spent the week practicing in Colorado Springs. Despite mountains of bottled water being found everywhere, New England cornerback Stephon Gilmore and wide receiver Danny Amendola were both sidelined for dehydration. Fortunately Amendola had already scored a beautiful touchdown from Brady and had thrown the ball into the stands.
7. Concessions are definitely different in Mexico! Hot dogs and burgers could be found, along with Mexican beer, of course. But also on offer were hot peppers with lime, street tacos — and most bizarrely — cup o' noodles with lime wedges. Up in the press box, members of the media were fed traditional chicken rolls.
8. Security couldn't have been tighter both at the game and before. Airport-style metal detectors checked everyone entering both team hotels in the Polanco area of Mexico City. On game day morning, armed guards protected the players as they got on the buses for the stadium. Patriots owner Robert Kraft was escorted to his private car by security detail, while SWAT teams holding machine guns watched from the back of Jeeps.
Also Read: Super Bowl MVP Tom Brady Puts a Smile on for Roger Goodell, Tears Up Over His Mom
9. The halftime didn't quite rival a Super Bowl show, but it was pretty damn impressive. A collection of rescue workers — human and canine — took to the field in formation as the letters M-E-X-I-C-O were spelled out in remembrance of the 468 people who were killed in the recent earthquakes. The crowd was asked to raise a fist in a moment of silence to honor the victims.
Two things that were shown on TV but still have to be mentioned are the fact that the Patriots blew away the Raiders with a 33-8 victory, despite them having struggled in altitude in the past. And New England kicker Stephen Gostkowski set a new career high with a 62-yard field goal. However, the altitude could have helped with that, as the thin air makes it easier for the ball to travel further.